The Writing Desk is a place where Hawke receives pieces of information and requests for help. In Act 1, the desk is in Gamlen's House. In Acts 2 and 3, the desk is in the Hawke Estate.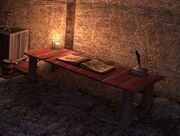 Act of Mercy

Bait and Switch

The Bone Pit

Friends in Low Places

Loose Ends

Inside Job

The Fixer

Forbidden Knowledge

The Midnight Meeting

Night Terrors

The Underground Railroad

Best Served Cold

Favor and Fault

King Alistair

The Last Straw

Who Needs Rescuing?

A Letter For Bethany

A Letter For Carver

A Letter from Emile de Launcet

A Letter from Meredith

A Letter from Orsino

A Letter from Tevinter
Ad blocker interference detected!
Wikia is a free-to-use site that makes money from advertising. We have a modified experience for viewers using ad blockers

Wikia is not accessible if you've made further modifications. Remove the custom ad blocker rule(s) and the page will load as expected.