Wool Padding is a plot item in Dragon Age: Origins - Awakening.
Acquisition
Edit
Found in a chest in the City of Amaranthine, past the three merchants and across from the city walkway entrance where the broken fence is.
Involvement
Edit

Golem's Might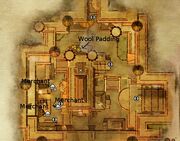 Ad blocker interference detected!
Wikia is a free-to-use site that makes money from advertising. We have a modified experience for viewers using ad blockers

Wikia is not accessible if you've made further modifications. Remove the custom ad blocker rule(s) and the page will load as expected.