Waxler's Hat is an Act 2 side quest in Dragon Age II.
Acquisition
Edit
During Act 2 in the Docks at night you will be able to enter the Disused Passage. There inside a sack you will find an item called "Waxler's Hat". Loot the item and a new quest will appear in your journal.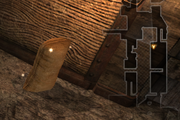 Walkthrough
Edit
Head to The Hanged Man at night and hand over the hat to its owner for a reward.
1
750 XP
The quest may not mark the tavern as the final place to go to complete the quest. (

pc

xbox360

ps3

1.03)