The Vimmark Wasteland is a particularly desolate section of the Vimmark Mountains. The Dwarven Merchants' Guild uses a path through the Wasteland for their caravans.
Involvement
Edit
In 9:37 Dragon[1] the dwarven caravans are ambushed and viciously attacked in the Wasteland by certain Carta cells despite the agreements between the Guild and the Carta.
Around the same time
Varric
brings Hawke and their party to the Vimmark Wasteland. He believes it to be the location of the Carta which has been attacking Hawke.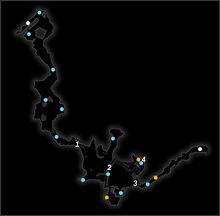 Codex entries
Edit

Codex entry: Carta Bronto, upon killing a bronto in the arena


Codex entry: Amgeforn the Lonely Vigil, a pillar to the north of the arena


Codex entry: Amgeforn the Wasteyard, a pillar to the south of the arena


Codex entry: Amgeforn the Foul, a pillar to the east of the arena

References
Edit
↑ Dragon Age Keep - World Lore - Vimmark Mountains - Events