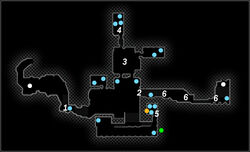 The Vimmark Chasm is a location in the Vimmark Mountains. It is a deserted fortress built into a mountain chasm, which has been re-occupied by the Carta.
Involvement
Edit
Hawke enters the Vimmark Chasm after having successfully crossed the Vimmark Wasteland.

Legacy
Notable items
Edit
Twisted Steel Ring
Twisted Steel Ring
---
Ring

+(0.45 + 0.045 * LVL) strength
+(0.45 + 0.045 * LVL) magic
Immunity to stun
Codex entry
Edit

Codex entry: Scout's Report
, a book in a small southern room
Ad blocker interference detected!
Wikia is a free-to-use site that makes money from advertising. We have a modified experience for viewers using ad blockers

Wikia is not accessible if you've made further modifications. Remove the custom ad blocker rule(s) and the page will load as expected.