For the newly rebuilt Chantry in Dragon Age: Inquisition, see Redcliffe Chantry.
The Village chantry is the local chantry in the village of Redcliffe. During the events of A Village Under Siege it serves as a place where the villagers of Redcliffe, specifically those who are not involved in its defense, such as the children and the elderly, take shelter from the attacks.

A Missing Child

A Village Under Siege
Characters
Edit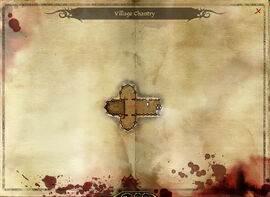 Codex entries
Edit

Codex entry: The Commandments of the Maker
source, book

Codex entry: Demonic Possession
source, bookshelf

Codex entry: The Founding of the Chantry
source, book

Codex entry: Thedas Calendar
source, book
Ad blocker interference detected!
Wikia is a free-to-use site that makes money from advertising. We have a modified experience for viewers using ad blockers

Wikia is not accessible if you've made further modifications. Remove the custom ad blocker rule(s) and the page will load as expected.