Valendrian's Home is where the Elder (or hahren) of the Denerim Alienage resides.
Characters
Edit
Notable items
Edit

Gift of the Grey
Gift of the Grey
---
Dagger
Silverite (Tier 6)
Requires: 26 dexterity

Damage: 6.00
Critical chance: 4.50%
Armor penetration: 7.00
Strength modifier: 0.85


+5% melee critical chance
, source: Valendrian
Containers
Edit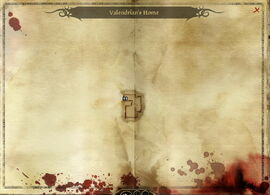 Chest (Locked for 30 XP)
Chest (Locked for 40 XP)
Armoire
Ad blocker interference detected!
Wikia is a free-to-use site that makes money from advertising. We have a modified experience for viewers using ad blockers

Wikia is not accessible if you've made further modifications. Remove the custom ad blocker rule(s) and the page will load as expected.