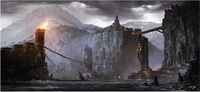 Ever looked around your drab room and say, "boy, I sure wish these white/wood/mud walls had more flair".
Well, tomorrow the BioWare store will be holding a pre-sale for the first Dragon Age II lithograph, the amazing Kirkwall Gate. There will be 2 pre-sales, each of 100 lithographs, tomorrow starting at 10am MDT and at 5pm MDT.
Get ready to order yours on the BioWare store.