Ad blocker interference detected!
Wikia is a free-to-use site that makes money from advertising. We have a modified experience for viewers using ad blockers

Wikia is not accessible if you've made further modifications. Remove the custom ad blocker rule(s) and the page will load as expected.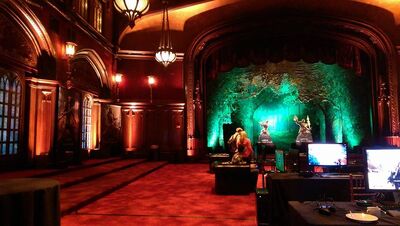 Wardens, Heroes of Kirkwall and my fellow Inquisitors. I want to extend my thanks to everyone who has contributed to this community - editors, contributors, readers, and those wee ones on the chat who keep me up at night. Over these past 5 years we've seen the audience for this wiki grow and shrink and grow again as games are released. Here we are, a month away from the release of
Dragon Age: Inquisition
. Wikia and BioWare has graciously allowed
Loleil
and
I
to spend some time in San Francisco playing the game. After a day of play testing followed by two days of withdrawal, I am sure that:
Dragon Age: Inquisition will be the best game in the series.
And in anticipation of new visitors and a growing community, King Cousland, Loleil and I want to extend a warm welcome to Kelcat and HD3 who will be helping us grow this community. Kelcat's contributions and HD3's contributions to the wiki speaks volumes about their passion for the game and we are thrilled to have them aboard.
And as we grow closer, there are also some that grow apart. D-day, the twinkling banhammer of our wiki, is moving on to bigger and better things. So it is with a heavy heart that we bid her farewell for now.
But, as a final lovely parting gift to the wiki, she selflessly applied her artistic talents to Dragon Age Wiki:Project Morrigan allowing us to grow even with her parting. And it is on that note that I am proud to announce Dragon Age Wiki:Project Morrigan.
This wiki has always strived to be a living codex. Part of that tradition is that the wiki is kept up to date. Beginning with the first bloody splatter iteration for Dragon Age: Origins, followed by Dragon Age Wiki:Project Flemeth for Dragon Age II, we're now stepping into the third game of the series and it is appropriate that the wiki is updated.
This redesign owes itself to the artistic talents of D-day, the diligent efforts of Margerard, contributions from the lovely Loleil and some css and javascript from yours truly. Please let us know what you think.
We would like to humbly thank BioWare for creating this fantastic world we live in. Wikia for giving us the tools we need. And finally to you, the fans, without whom there would not be a game or a wiki. This wiki is from us to you. -- tierrie talk contr 18:00, October 30, 2014 (UTC)