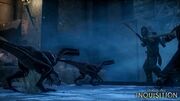 Today BioWare has announced the first new content pack for the Dragon Age: Inquisition multiplayer. The official description follows:
Dragon Age™: Inquisition - Destruction adds new paths to existing destinations. The conflicts raging throughout the world have upset the balance of nature. Wild creatures now roam the battlefield, introducing chaos as they attack both friend and foe. Best of all, you can download this pack right now, totally free!
Players now also have the opportunity to buy the Dragon Age: Inquisition Deluxe Edition content separately for $9.99.

Features include:
New routes for the Orlesian Chateau, Elven Ruins & Tevinter Ruins Maps
New hostile wild creatures roam these new paths which will attack both the Inquisition and their enemies alike and can be directed to attack friend or foe!