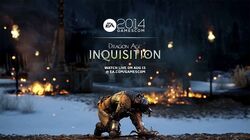 As many have heard of it already, Electronic Arts and BioWare is at Gamescom in Cologne, Germany. It's been said they will introduce new content from Dragon Age: Inquisition amongst other EA games, so this time it's worth keeping an eye on the event.
They have released a trailer, in which we might see someone familiar... confirmed by Laidlaw. The appearance will also be customizable.
Dragon Age: Inquisition official trailer - The Enemy of Thedas:
Original videoyHeWOQvVRd8|355|425
In this video we can take a peek at customization, crafting and some more combat against the Avvars this time, with a human female warrior, Blackwall, Cole, Solas, and as a twist, a friendly Avvar:
Original videoLha0emmowCM|355|425
The first time the conference was streamed, it started to lag heavily around the 9th minute in the video. To fill the missing part in, here's the IGN version of it, which in turn leaves out the customization and crafting:
Original videocuR2zMuUBaY|355|425
Final update: There was an extended demo shown at Gamescom, which can be found on IGN's site.