Comments

61
New Companion: The Iron Bull Officially Revealed
Ad blocker interference detected!
Wikia is a free-to-use site that makes money from advertising. We have a modified experience for viewers using ad blockers

Wikia is not accessible if you've made further modifications. Remove the custom ad blocker rule(s) and the page will load as expected.
The
Iron Bull
has been officially unveiled-although fans who've been following the rumours would have already guessed as much- through
Facebook
and
Twitter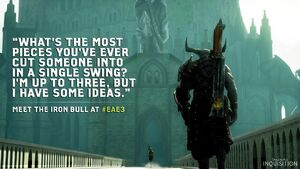 BioWare have described him as "The Muscle", as well as promising to learn more about him at E3. As such, Bioware may seek to announce more companions over the next few days preceding the Dragon Age: Inquisition conference at E3.