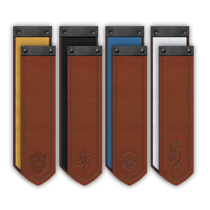 Prima Games has announced an "Uber Edition" for
Dragon Age: Inquisition
by
BioWare
. The
Dragon Age
Inquisition
Inquisitor
's Edition.
This exclusive set is contained in a large leather-textured Dragon Age themed container and includes the following in accordance to the item description:
368-page Collector's Edition hardcover guide with unique cover treatments matching the container
Stylized pen with the Inquisition logo presented in a themed box
Four faux leather bookmarks topped with metal headers, stamped with Dragon Age faction emblems, and backed with colored ribbons matching the faction colours as well as including bonus in-game items
Though the game is not included and there are no details as to whether this is a North American exclusive, more can information can be found here
There will only be one manufacturing run of this item however, similar to the Collector's edition of the game itself.
BioWare's Dragon Age Facebook page enquired (jokingly) if Brother Genitivi would approve. Would he?
Upon further confirmation, the price has been dropped to $71.99