Chris Pramas one of the Green Ronin employees informed us info about release schedule for 2013. Between known and liked titles, there will be also Dragon Age Set 3 and second official expansion called The Deep Roads.
Dragon Age and the Adventure Game Engine
The coolest Dragon Age news is that the game is going to be featured on Wil Wheaton's Tabletop show. About a year ago, I flew down to LA and ran a game for Wil, Chris Hardwick (The Nerdist), Kevin Sussman (Stuart the comic shop owner on Big Bang Theory), and Sam Witwer (Aidan on Being Human and Crashdown on Battlestar Galactica). It was a huge amount of fun and it should be a great intro to Dragon Age and the Adventure Game Engine that powers it. The session has been split into two episodes. The first debuts on January 31 and the second on February 14. Mark your calendars!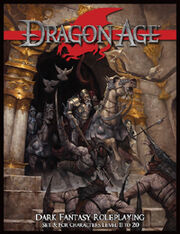 The big question on everyone's mind with Dragon Age is, of course, Set 3. I would love to tell you an exact date that we will release it but I can't just yet. I can tell you this. Art is pouring in and it looks awesome. We've been sending files up to BioWare for several months and the approvals process is ongoing. Will and I have been adding some extra material to flesh a few things out. With the nature of approvals and the transition between Will and our new developer Jack, my best estimate right now is a PDF release in February (which would be great timing with the Tabletop shows) and the boxed set in April. We'll then follow that up with the adventure anthology The Deep Roads in the summertime, with further plans to be announced later this year.




Meanwhile, we've been working on a new game that uses the Adventure Game Engine. We'll be making a formal announcement in a few months. For now I can tell you that it is a fantasy game and that we've created a brand new world for it that we plan to explore in a variety of ways. It is neither a vanilla setting with the de rigueur dwarves, elves, and orcs, nor something totally out there that'd require players to do homework to understand it. We think you're going to love it.