Comments

27
Dragon Age Volume 3:Until We Sleep HC - September 3, 2013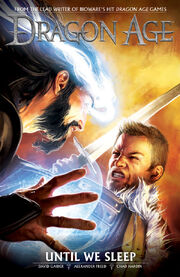 As raported Dark Horse, Publisher responsible for Dragon Age comic books, Until We Sleep HC will be available in Sebtember 3, 2013. Alistair, Isabela and Varric will come face to face with blood mage from Tevinter, Aurelian Titus. Remember: This is the last volume.
The lead writer of BioWare's hit Dragon Age games concludes King Alistair's epic quest—in a journey beyond reality itself!
Fans around the world have recognized the Dragon Age comics to be an integral addition to the video-game saga. Now, series writer David Gaider pits King Alistair and his noble companions Varric and Isabela against their most nefarious foe—the twisted blood mage Aurelian Titus!
An essential read while you wait for Dragon Age III!
from dragon age lead writer DAVID GAIDER!
Bianca and Varric!
www.dragon-age.com.pl/images/stories/komiks/DopokiSpimy/Varric_Bianka.jpg
www.dragon-age.com.pl/images/stories/komiks/DopokiSpimy/Varric_Bianka2.jpg
Ad blocker interference detected!
Wikia is a free-to-use site that makes money from advertising. We have a modified experience for viewers using ad blockers

Wikia is not accessible if you've made further modifications. Remove the custom ad blocker rule(s) and the page will load as expected.