Ad blocker interference detected!
Wikia is a free-to-use site that makes money from advertising. We have a modified experience for viewers using ad blockers

Wikia is not accessible if you've made further modifications. Remove the custom ad blocker rule(s) and the page will load as expected.
Dark Horse Comic, the publisher of Dragon Age comic books have shared a Dragon Age Library Edition Volume 1 HC cover and description: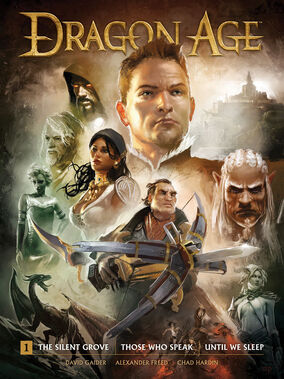 Helping set the stage for BioWare's hotly anticipated Dragon Age: Inquisition, this deluxe oversized hardcover collects every Dark Horse Dragon Age comic to date—The Silent Grove, Those Who Speak, and Until We Sleep—an epic trilogy complete in one volume, written by Dragon Age lead writer David Gaider!
Prepare for Dragon Age: Inquisition!
Featuring annotations from the creators!
An essential addition to the Dragon Age canon!
"The industry needs to take note, if you want to do a comic book video game tie-in; you follow the blueprint that this title has set." —Comic Bastards
Publication Date: June 04, 2014
Format: FC, 232 pages; HC, 9" x 12"
Price: $39.99