Ad blocker interference detected!
Wikia is a free-to-use site that makes money from advertising. We have a modified experience for viewers using ad blockers

Wikia is not accessible if you've made further modifications. Remove the custom ad blocker rule(s) and the page will load as expected.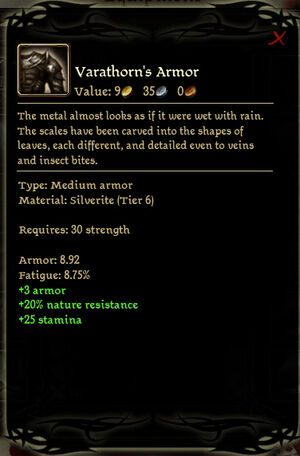 Varathorn's Armor
Value: 9

35

0

---
The metal almost looks as if it were wet with rain. The scales have been carved into the shapes of leaves, each different, and detailed even to veins and insect bites.
---
Type: Medium armor
Material: Silverite (Tier 6)

Requires: 30 strength

Armor: 8.92
Fatigue: 8.75%
+3 armor
+20% nature Resistance
+25 stamina

Starfang
Value: 13

50

0

---
Runes: 3
The stoic blacksmith, Mikhael Dryden, crafted this peerless weapon out of a metal that fell from the heavens. The world has possibly never seen its like, or ever will again.
---
Type: Longsword
Material: Starmetal

Requires: 31 strength

Damage: 11.90
Critical chance: 3.40
Strength modifier: 1.00
+3 dexetery
+3 damage
+2.5 armor penetration
Comments



{|width="290" style="#000000; color:#D2B48C;"
|[[File:Ico_armor_med.png|left]]<br />'''Varathorn's Armor<br />'''Value: 9[[file:DAO_goldpiece.png]] 35[[file:DAO_silverpiece.png]] 0 [[file:DAO_bronzepiece.png]]
|-
|
----
The metal almost looks as if it were wet with rain. The scales have been carved into the shapes of leaves, each different, and detailed even to veins and insect bites.
----
Type: Medium armor<br />
Material: Silverite (Tier 6)<br />
<br />
Requires: 30 strength<br />
<br />
Armor: 8.92<br />
Fatigue: 8.75%<br />
{{ColorPositiveStat|+3 armor}}<br />{{ColorPositiveStat|+20% nature Resistance}}<br />{{ColorPositiveStat|+25 stamina}}
|}