Comments

0
New Faction for Multiplayer - Qunari
Ad blocker interference detected!
Wikia is a free-to-use site that makes money from advertising. We have a modified experience for viewers using ad blockers

Wikia is not accessible if you've made further modifications. Remove the custom ad blocker rule(s) and the page will load as expected.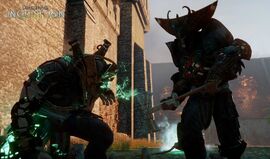 Agents, not since the siege of Kirkwall has Thedas seen such an aggressive display of power from the mighty Qunari. Though we don't yet know the true motive behind their assault, make no mistake about it: the Qunari pose a serious threat, and they're here in Dragon Age: Inquisition multiplayer.
Source: http://www.dragonage.com/en_US/news/the-qunari-have-arrived-in-multiplayer-mode?utm_campaign=da-social-na-ic-fb-social-na-ic-fb-new-mp-faction-prev-site-sust&utm_source=facebook&utm_medium=social&sourceid=da-social-na-ic-fb-social-na-ic-fb-new-mp-faction-prev-site-sust&cid=43890&ts=1442345134067&sf40908783=1