Updates on the official website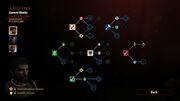 BioWare has officially released new information on the warrior class. Hawke may become a Reaver, a Templar or a Berserker. There are several screenshots in the gallery revealing the new talents for warriors.
Following the unveil of Anders as a companion, a page on the mage has been added to the character section on the Dragon Age II website, revealing details on his new role.
Videos and previews
A lot of videos have been released recently:
Ad blocker interference detected!
Wikia is a free-to-use site that makes money from advertising. We have a modified experience for viewers using ad blockers

Wikia is not accessible if you've made further modifications. Remove the custom ad blocker rule(s) and the page will load as expected.