Welcome to my user page! I'm Loleil, one of the wiki's admins, and I'm here to help! Please leave a message on my talkpage if I can do anything to make your time on the wiki better.
About me

I love good stories and I think video games (particularly RPGs) are an amazing medium to tell them. In my opinion, BioWare do it better than most. Ever since the original Baldur's Gate I've been a big fan of theirs and when I found out they were creating a new fantasy RPG, I wanted to find out everything I could, which led me to the wiki, and very quickly led to me getting hooked on editing!
I love being a part of this community and I really enjoy seeing people with different ideas and skill sets come together to create an amazing repository of information.
When I'm not playing video games I love playing with dogs, eating new food (particularly anything in the cake family), and exploring this amazing world.
Favourite games
Baldur's Gate II: Shadows of Amn
BioShock
Dragon Age: Origins
Final Fantasy X
Planescape: Torment
Words to write by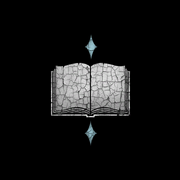 Never use a metaphor, simile or other figure of speech which you are used to seeing in print.
Never use a long word when a short one will do.
If it is possible to cut a word out, always cut it out.
Never use the passive where you can use the active.
Never use a foreign phrase, a scientific word or a jargon word if you can think of an everyday English equivalent.
Break any of these rules sooner than say anything outright barbarous.
- George Orwell, Politics and the English Language.
My Warden
| | |
| --- | --- |
| | Jessa |
My robot
My beloved robot lives
here
.