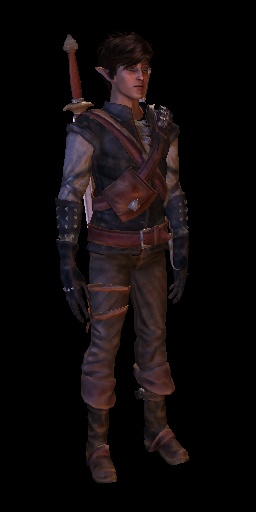 City elf who dreamed about leaving for great adventures like his mother. After an incident during his wedding, he is taken from Denerim to Ostagar conscripted, as he would go to prison from killing Vaughn.
In Ostagar, he is treated rather unkindly by most of the common soldiers and humans alike, except for Duncan. The weird bashing however stops as he meets Alistair, his fellow grey warden. They easily become friends, wich makes for a great dynamic in combat later during the retrieving of darkspawn blood - dynamic that is not shared with the other recruits Daveth and Ser Jory. Still in the wilds, Darien meets Morrigan for the first time. Even with the warning words of Alistair, he gets this weird sense that this is not the last time the two will see each other.
After the brutal Joining ritual, Darien and Alistair are send on an errand during the battle to light the beacon of Ishal for Loghain, but while doing so they get ambushed and knocked out by darkspawn.
Dragon Age was the gaming franchise wich introduced me to modding - and now I can't really run these games without any modifications. I'll be using this space to organize all my favourite mods (more as a place to keep track of them than to showcase or anything). They're classified by type, so if anyone (like you) want to use some of them, it's easy to know those wich are lore friendly, just alter visual aspects, correct bugs, restore cut content, etc.
Required for Modding
Edit
DAModder
The best DA mod manager.
CharGenMorph Compiler
To prevent character creation bugs from modding.
Mods to Dragon Age: Origins
Edit
General (Anyone would like to get back cut content)
Retcon fixes (Not everyone wants consistency)
Visual upgrades
Companion morphs
Items
Utility
Mods to Dragon Age: Awakening
Edit
Mods to Dragon Age: Exodus
Edit
(Yes, that's what I call DA2. It was a stupid sequel name, I might as well retcon that on my head canon.)
General
Retcon fixes (Not everyone wants consistency)
Visual upgrades
Companion morphs
Act 3 companion clothing
Items
My contributions
Edit