The Spoiled Princess is an inn located at the Lake Calenhad Docks.
Background
Edit
According to the innkeeper, the inn is named after his sister, who was their father's "little princess." She moved to Denerim because she wanted to live somewhere "more glamorous," but she was eventually robbed and murdered. Her father passed away in despair, her mother stopped eating, and the innkeeper inherited the inn and kept the name.
Characters
Edit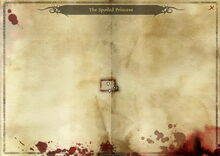 Innkeeper. He is a merchant who sells some unique things like Wine and Fire Trap Plans. He can also provide information on Brother Genitivi if the Warden is pursuing the Urn of Sacred Ashes quest line.
Larana, a widow involved in the quest Notices of Death. After hearing the news she will leave and never return.
Felsi, involved in the quest Oghren's Old Flame.
Shady Patron
Disgruntled Patron
Notable items
Edit

Love Letter
Love Letter
---
Plot item


A note between wealthy paramours.



, in a locked chest
Containers
Edit
Ad blocker interference detected!
Wikia is a free-to-use site that makes money from advertising. We have a modified experience for viewers using ad blockers

Wikia is not accessible if you've made further modifications. Remove the custom ad blocker rule(s) and the page will load as expected.