The First
Talk

2
6,748pages on
this wiki
Race:

Gender:

N/A

Class:

Rank:

Location:

Appearances:
The First is one of the Disciples, an intelligent darkspawn and one of the major antagonists in Dragon Age: Origins - Awakening.
Involvement
Edit
The First is a talking darkspawn you meet in the Blackmarsh. It is very loyal to the Mother and hates the Architect, and the Warden-Commander. The First apparently killed the Grey Warden Kristoff, the person the player was seeking in the first place. The First was sent by the Mother to leave a trap for the Warden-Commander, sending the Warden and his/her companions into The Fade, but didn't realize that it was included in the trap as well. Once he realized he had been betrayed, it vowed to find his own way out of the Fade and get revenge on The Mother.
It attempted to secure its way out by allying himself with the Baroness. When the Warden-Commander allied with the Spirit of Justice to take her down, the two clashed. Upon defeat, it pleaded with the Baroness to send them back out to the real world; she agreed, but used its lifeforce with blood magic, sending the Warden, Justice, and herself back to the real world.
Alternatively if the Warden-Commander allied with the Baroness, The First will side with the Spirit of Justice. After the skirmish The First will have survived and as the Baroness requires a living vessel to conjure her spell that will send the Warden-Commander out of the Fade, she uses the weakened First. Although it tries to escape, it ultimately proves futile as he is caught in the spell.
Armor of the Sentinel
Armor of the Sentinel
---
Massive chestpiece
Volcanic Aurum (Tier 9)
Requires: 52 strength

Armor: 26.25
Fatigue: 36.75%





+6 strength
+1 or +2 health regeneration in combat
Chance to avoid missile attacks
+20 physical resistance
The Mother's Chosen
The Mother's Chosen
---
Greatsword
White Steel (Tier 8)
Requires: 42 strength

Damage: 18.70
Critical chance: 2.55%
Armor penetration: 6.75
Strength modifier: 1.10
+2 cunning
+1 armor penetration
+4 attack
+5 fire damage

"The Mother is always right."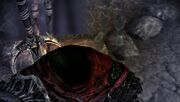 If you slay the First using a dagger, greatsword or longsword, the finishing blow will decapitate it, and the First speaks without a head during the following cutscene.
See also
Edit