The Dungeons beneath Chateau Haine serve as a convenient place for the Duke to deposit any criminals, malcontents or odd statues as he deems fit.
Background
Edit
The fortress was modified during the Fourth Blight and the dungeon passages were built by the Grey Wardens to help the citizens of Orlais escape the encroaching darkspawn. A crack in the wall within The Dungeons leads through a ghast infested cave-like passage out to the Retreat.
Involvement
Edit
At the time of
Hawke
and
Tallis
's imprisonment,
Duke Prosper
has several other prisoners that can be released by the two.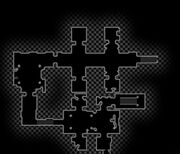 Heart of the Many

The Du Lac Sign
, if
Aveline
is in the group

Literary Theft
, if
Varric
is in the group

The Odd Ensign
, if
Carver
is in the group

Pirates and their Curses
, if
Isabela
is in the group

A Secret Formula
, if
Sebastian
is in the group

A Symbolon
, if
Bethany
is in the group

A Warrior's Legacy
, if
Fenris
is in the group