The Augur is an Avvar from the Stone-Bear Hold in the Frostback Basin.
Background
Edit
His title of Augur indicates that he is Stone-Bear Hold's resident mage, responsible for interpreting the will of the Gods and handling all matters of the arcane.
Involvement
Edit
The Augur aids the Inquisitor in their investigation of the strange artifacts from the swamp produced by the Jaws of Hakkon and in investigating the Augur's apprentice; Sigrid Guldsdotten.

It Remains to be Seen


In Exile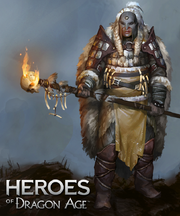 Ad blocker interference detected!
Wikia is a free-to-use site that makes money from advertising. We have a modified experience for viewers using ad blockers

Wikia is not accessible if you've made further modifications. Remove the custom ad blocker rule(s) and the page will load as expected.