Teyrna Eleanor Cousland
Talk

0
6,749pages on
this wiki
"I'm no Orlesian wallflower, give me a sword and I'll use it!"
Eleanor Cousland is the Teyrna of Highever and wife to Bryce Cousland. She is the mother of Fergus Cousland and the Warden in the Human Noble Origin.
Background
Edit
She is a sharp and quick-witted woman, as she will brazenly show if the Warden evades her questioning about their desires to become a Grey Warden recruit. Though very aware of the Blight, Eleanor carries herself as befitting a woman of her stature. In conversation with the Warden, she will reveal that she is as worried as the Teyrn is about the impending Blight.
During the female Warden playthrough the Teyrna refers to herself as a "battle maiden'. This perhaps explains why the female Cousland was raised knowing how to fight. (Warrior only: rogue Couslands do not hear this.)
Involvement
Edit
Click here to reveal spoilers
for Dragon Age: Origins.
During an attack on Highever, orchestrated by Arl Howe, Eleanor joins the Human Noble as a temporary companion. However, they are unsuccessful in defending Castle Cousland. In order to buy time for her child and Duncan to escape, she stays behind, refusing to leave her mortally wounded husband.
If, when the Human-Noble Warden confronts Arl Howe in the quest Rescue the Queen, he/she tells him "I'll kill your wife and son too," Howe will say he made Eleanor kiss his feet before he killed her. However, it's clearly a riposte and rather a lie.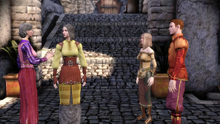 After rescuing Queen Anora, in Eamon's Estate, Anora claims she knew the Cousland family well and that Eleanor was "particularly dear" to her.

If the soon to be warden converses with his/her mother she will inform the player about the treasury, and state that she has the key to the family treasury. However, in the PC version attempting to open the treasury entrance and on the Xbox 360 and PS3 version going near the treasury entrance will trigger the conversation as well. This will allow you to access several valuable items.
"I was quite the battle maiden myself, in my day. But I think it was the softer arts that helped me land a husband."
(about her youngest child possibly joining the Grey Wardens) "You haven't got it into your head that you want to become one, have you?"
"I'm no Orlesian wallflower! Give me a sword and I'll fight!"
"Hush, Bryce. I'll kill every bastard that comes through that door to buy them time, but I won't abandon you."
───────
Human Noble: "I am hardly a boy/girl any longer."
Teyrna Eleanor Cousland: "Indeed! I turn my back and here you are, a fine man/woman in your own right. But that doesn't mean I have to like it."
The actress dubbing the Teyrna also does the voiceovers of Leandra Amell. As Eleanor Cousland, she portrays The Warden's mother; whereas as Leandra Amell, she portrays Hawke's mother.