The taint is a physical corruption spread by the darkspawn that ultimately makes the victim hear the call of the Old Gods. It can be transmitted through contact with darkspawn blood and fluids, or through objects imbued with the taint,[2] such as eluvians. The contact does not automatically make one sick, but there is a great chance of it.[3]
Taint also manifests as spidery tendrils of black rot, along with a dry shiny film covering underground passages used by darkspawn.[4] As the corruption progresses, it gathers into black sacs the size of a man lining the floor or hanging from the ceiling.[5]
Origin and nature
Edit
Races of Thedas had no knowledge of the taint prior to -395 Ancient when the Golden City blackened and first darkspawn appeared underground. The Chantry teaches that the magisters who entered the city "brought sin to heaven" and were "corrupted by their crime".[6]
The tainted
Edit
Darkspawn
Edit
Main article: Darkspawn
The darkspawn horde is connected through the taint, functioning as a hive-mind. While high ranking darkspawn like emissaries or alphas have a limited influence upon small groups, and the Architect and the Mother also command larger groups, only an Archdemon can command the entire horde.
Main article: Ghoul
The taint spread by the darkspawn twists and corrupts people and animals, which go mad, develop physical afflictions, and/or perish outright. Survivors are transformed into ghouls. Most infected subjects are put down as a precaution and an act of mercy. Even "ghouled" victims will ultimately be killed by the disease, leaving whole areas completely lifeless. The longer an infected creature lives, the more it will manifest hair loss, aggressive or even rabid behaviour, and numerous deformities, protrusions, boils and sores.
Once the taint progresses enough, the darkspawn recognize ghouls as their own kind, and ghouls can sense darkspawn and hear the call of an Archdemon.
When the taint comes into contact with the local flora it usually poisons and kills the plants and trees making the area infertile for many years. However deep mushrooms seem to grow near the taint.[10]
The Black City taints those spirits foolish enough to draw too close.[11]
Blight magic
Edit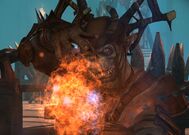 The taint carries magical power that allows darkspawn emissaries to cast spells.
Boundaries
Edit
Some areas below the darkspawn-infested Deep Roads are surprisingly free of the taint.
Managing the taint
Edit
Acceleration
Edit
Resistance
Edit
Dalish Keepers can combine herbal tinctures and a magic ritual to slow down the taint in recently infected victims, but only for a time.[16]
In rare cases an infected subject (e.g. The Mabari Hound) may make a full recovery if given early care.
References
Edit