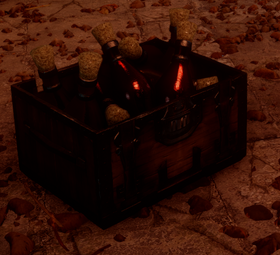 Supply Caches are containers where Healing Potions can be resupplied. The are found scattered throughout Thedas, often in areas that contain important quests or boss battles.
The amount of potions a supply cache contains is based on the maximum number of potions the party can carry. The base amount is 8, though the Inquisition perk More Healing Potions will add an additional 4. Unlike other containers, a loot window does not open when the cache is selected; selecting the cache will automatically fill your potion supply.
Notable cache locations
Edit
The Old Temple, one is just inside the main entrance, another in the inner sanctum and a third at the Frozen Alter
Ad blocker interference detected!
Wikia is a free-to-use site that makes money from advertising. We have a modified experience for viewers using ad blockers

Wikia is not accessible if you've made further modifications. Remove the custom ad blocker rule(s) and the page will load as expected.