Sten
Talk

135
7,122pages on
this wiki
This article is about the character. For the military rank, see Antaam.
Race:

Gender:

Male

Class:

Title:

Sten (Prior to 9:34 Dragon)
Arishok (As of 9:34 Dragon) (only in Bioware canon)

Quests:

Appearances:
Sten is a warrior of the Beresaad, the vanguard of the Qunari people. He is a stoic and disciplined man with a strong code of ethics, and the way he treats others depends on whether or not they have his respect, which he does not give easily. He is a potential companion to the Warden and can only be recruited in Lothering. He is not a typical Qunari as he was born without horns.
Etymology
Edit
As with all Qunari, "Sten" is not a name; rather, it is a descriptor for rank and role. If Sten and Zevran are in the party together, they will have a conversation where Sten admits that "Sten" is not his name, but is rather his rank. Additionally, in Dragon Age II Hawke encounters several groups of Stens, whom are armored Qunari infantry. By the events of Dragon Age: Those Who Speak, the character known as Sten is deemed the new Arishok, one of the three major leaders of all Qunari.
Background
Edit
Involvement
Edit
Dragon Age: Origins Edit
Dragon Age II Edit
Dragon Age: Those Who Speak
Edit
Dragon Age: Until We Sleep
Edit
Personality
Edit
Like all Qunari soldiers Sten values strength.
Of all the companions besides the Warden, Sten is the only one who seems to genuinely like and respect Shale, as he calls her Kadan, the same title he bestows on the Warden. Sten also seems to be very fond of Dog, more than most other party members. He respects Dog as a strong warrior, and feels a sort of a kinship with him. After recovering his sword, he has a brief encounter with Dog (triggered by the Warden initiating a conversation with Dog) which ends with Sten saying "You too, know what it is like to have a weapon that is a part of you. Few others do."
Sten also has a softer side, as demonstrated when Leliana catches him picking flowers; although Sten denies it, claiming he picked them for their medicinal properties. There's also another instance in which Leliana catches him playing with a kitten, although Sten claims he was "helping it train."
When asked if there is anything he likes about Ferelden, you find out that Sten is fond of cookies, and wishes that his people would adopt them to their land. He refers to them, when asked, as "small, round, baked things, like bread but sweet and crumbly." If he is in the party when player speaks with Carroll about crossing to the Circle Tower, Sten will give him a plate of cookies that he stole from a child in the last village they passed through "for his own good", convincing Carroll to allow them passage.
Yet, in Those Who Speak, he refers to Alistair (king or not) as "Kadan" and "basalit-an", implying a respect for the man that never surfaced in past-conversation.
He also reveals through dialogue with the Warden that he is fond of tea, incense, and the smell of the sea.
Sten has a liking for paintings. This may seem uncharacteristic of him but his appreciation is actually based in his being impressed by the artist's control of the brush. The official strategy guide likens an artist's discipline to that of a warrior.
Initial statistics
Edit
Relative attribute weightings on auto-level: strength 2, dexterity 0.25, willpower 0.25, magic 0.5, cunning 0, constitution 0
Class:
Warrior
Specialization:
Skills:
Survival
(level 9)
Survival
(level 12)
Combat Training
Combat Training
(Improved)
Combat Training
(Expert)
Combat Training
(Master)
Starting talents: pc
Warrior:
Powerful
Threaten
Bravery
(level 9)
Precise Striking
(level 6)
Taunt
(level 7)
Two-Handed:
Pommel Strike
Indomitable
Stunning Blows
(level 10)
Critical Strike
(level 11)
Sunder Arms
Shattering Blows
(level 12)
Mighty Blow
Powerful Swings
Two-Handed Strength
(level 8)
Initial gear
Edit
Clothing
Clothing
---
Clothing
Clothing similar to this is often worn by the dwarven community. It features leather fastenings and and linen piping along the seams.

Sten specific gear
Edit
Asala
Asala
---
Greatsword
Steel (Tier 3)
Requires: 22 strength

Damage: 13.20
Critical chance: 1.80%
Armor penetration: 3.90
Strength modifier: 1.10



+1 willpower
+1.5 armor penetration
+12 attack
Plot skills
Edit
As you befriend Sten and gain his approval, he will gain additional skills:
| Skill Name | Benefit | Requirement |
| --- | --- | --- |
| Inspired: Minor Strength | +1 to Strength | 25% approval |
| Inspired: Moderate Strength | +2 to Strength | 50% approval |
| Inspired: Major Strength | +4 to Strength | 75% approval |
| Inspired: Massive Strength | +6 to Strength | 90% approval |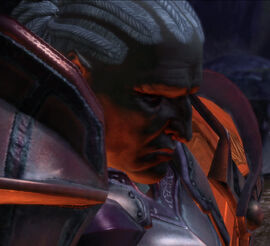 Main article: Sten/Dialogue
See Qunari Language for translations.
See Sten/Approval for a list of topics Sten can talk about when prompted to discuss "something he mentioned".
"If I were indeed hostile, you would be bleeding."
"I am a simple creature. I like swords, I follow orders. What else is there to be puzzled by?"
"No one has a place here. Your farmers wish to be merchants. The merchants dream of being nobles, and the nobles become warriors. No one is content to be who they are."
"Happiness is fragile. Nothing can be built upon it that will last. Only duty endures."
"Where is the cake? I was told there would be cake. The cake is a lie." (A reference to Portal when several writings on the wall indicate that GLaDoS tricked them with believing there is a cake if they pass the test).
"The Arishok asked me 'what is the blight?'. Now, I stand looking into its very eyes and still I have no answer for him. Though I expect you do. You have carried us this far, do not doubt that."
"People are not simple. They cannot be summarized for easy reference in the manner of: 'The elves are a lithe, pointy eared people who excel at poverty.'"
"I am a giant with a wardog. Either I am making a delivery, or I am besieging your fort. Hope for the former."
(When conversing with Shale) "There is worth in your life, Shale, There is value. But only if it is used."
"To be fooled by the world is unfortunate: By oneself, is deadly."
Dialogue
Edit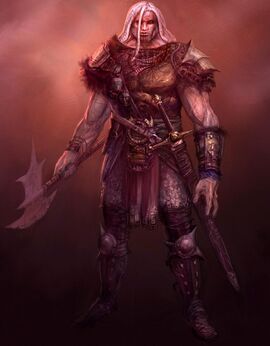 Warden: "Is there anything you like about Ferelden?"
Sten: There is... interesting food here.
Sten: You have a thing... it doesn't have a word in the qunari tongue. Little baked things, like bread, but sweet, and crumbly.
Warden: "Cookies?"
Sten: "Yes! We have no such things in our lands. This should be remedied."
───────
Warden: Don't you ever smile?
Sten: I am smiling.
Exploit for infinite approval
Edit
Once Sten has joined the party, speak to him until the option "Why did you come to Ferelden?" appears in the list of questions. Continue the conversation with any of the listed options until the option "Why would the Qunari care about the Blight?" appears. Select it then select "I'm a Grey Warden. It's my job." Then select "Did you find the answer to his question." Now the option "Why would the Qunari..." will appear again creating a loop. Each loop is worth (

+4

) . Once you stop the loop, the conversation cannot be started again, so the glitch is a one-time occurrence.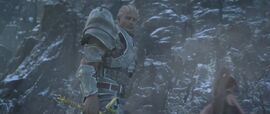 In the Sacred Ashes Trailer, Sten is depicted with a prominent beard.
Sten is one of the three companions who appear in the Sacred Ashes trailer. Of the characters featured in the trailer, he is the only one to have no dialogue.
When Sten challenges the Warden in Haven, he will state that they are going north; however, the map clearly indicates that Andraste's ashes are to the southwest. However, Haven is clearly north of where the Blight originated.
During the epilogue, when the player tries to talk to Sten after the first time, he will exclaim "Where is the cake? I was told there would be cake. The cake is a lie." This is a nod to the video-game Portal, where the phrase "The Cake is a Lie" is written on walls predominantly throughout many of the game's levels, and is a popular reference among its fans.
In The Darkspawn Chronicles DLC, Sten's specialization is the Reaver.
In the game Minecraft for Xbox 360, Skin pack #4 includes a Sten skin.
See also
Edit
Codex entry: Sten
References
Edit
↑ Original page unavailable. Image found at http://www.videogamesblogger.com/2009/10/04/dragon-age-origins-characters-list.htm