Ad blocker interference detected!
Wikia is a free-to-use site that makes money from advertising. We have a modified experience for viewers using ad blockers

Wikia is not accessible if you've made further modifications. Remove the custom ad blocker rule(s) and the page will load as expected.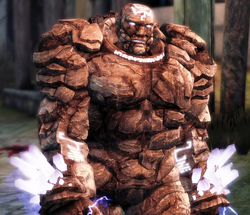 Small crystals are crystals which are used as weapons and are usable only by Shale. They range from chipped to brilliant, with the later crystals primarily found at Garin's booth in Orzammar Commons at level 19+.
Fire crystals
Edit
Name
Damage

Critical chance
Armor penetration
Strength modifier
Runes
Enhancements
Notes
Small Chipped Fire Crystal
Requires: 18 strength
5.00
0.50%
4.00
1.00
0
+5% fire damage
Converts all damage to fire damage
Small Flawed Fire Crystal
Requires: 20 strength
5.50
0.55%
4.60
1.00
0
+10% fire damage
Converts all damage to fire damage
Small Clear Fire Crystal
Requires: 26 strength
6.50
0.70%
5.80
1.00
0
+2% melee critical chance
+3 all weapon damage
+15% fire damage
Converts all damage to fire damage
Small Flawless Fire Crystal
Requires: 32 strength
7.00
0.50%
6.40
1.00
0
+3% melee critical chance
+4 all weapon damage
+22.5% fire damage
Converts all damage to fire damage
Small Brilliant Fire Crystal
Requires: 38 strength
8.00
0.80%
8.00
1.00
0
+5% melee critical chance
+5 all weapon damage
+30% fire damage
Converts all damage to fire damage
Ice crystals
Edit
Name
Damage

Critical chance
Armor penetration
Strength modifier
Runes
Enhancements
Notes
Small Chipped Ice Crystal
Requires: 18 strength
5.00
0.50%
4.00
1.00
0
+5% cold damage
Converts all damage to cold damage
Small Flawed Ice Crystal
Requires: 20 strength
5.00
0.55%
4.00
1.00
0
+10% cold damage
Converts all damage to cold damage
Small Clear Ice Crystal
Requires: 26 strength
6.60
0.65%
5.80
1.00
0
+1 armor penetration
+5% critical/backstab damage
+15% cold damage
Converts all damage to cold damage
Small Flawless Ice Crystal
Requires: 32 strength
7.00
0.70%
6.40
1.00
0
+2 armor penetration
+10% critical/backstab damage
+22.5% cold damage
Converts all damage to cold damage
Small Brilliant Ice Crystal
Requires: 38 strength
8.00
0.80%
8.00
1.00
0
+3 armor penetration
+15% critical/backstab damage
+30% cold damage
Converts all damage to cold damage
Lightning crystals
Edit
Name
Damage

Critical chance
Armor penetration
Strength modifier
Runes
Enhancements
Notes
Small Chipped Lightning Crystal
Requires: 18 strength
5.00
0.50%
4.00
1.00
0
+5% electricity damage
Converts all damage to electricity damage
Small Flawed Lightning Crystal
Requires: 20 strength
5.50
0.55%
4.60
1.00
0
+10% electricity damage
Converts all damage to electricity damage
Small Clear Lightning Crystal
Requires: 26 strength
6.50
0.65%
5.80
1.00
0
+2 dexterity
+4 attack
+15% electricity damage
Converts all damage to electricity damage
Small Flawless Lightning Crystal
Requires: 32 strength
7.00
0.70%
6.40
1.00
0
+4 dexterity
+6 attack
+22.5% electricity damage
Converts all damage to electricity damage
Small Brilliant Lightning Crystal
Requires: 38 strength
8.00
0.80%
8.00
1.00
0
+6 dexterity
+10 attack
+30% electricity damage
Converts all damage to electricity damage
Natural crystals
Edit
Name
Damage

Critical chance
Armor penetration
Strength modifier
Runes
Enhancements
Notes
Small Chipped Natural Crystal
Requires: 18 strength
5.00
0.50%
4.00
1.00
0
+5% nature damage
Converts all damage to nature damage
Small Flawed Natural Crystal
Requires: 20 strength
5.50
0.55%
4.60
1.00
0
+10% nature damage
Converts all damage to nature damage
Small Clear Natural Crystal
Requires: 26 strength
6.50
0.65%
5.80
1.00
0
+2 constitution
+2/+4 health regeneration in combat
+15% nature damage
Converts all damage to nature damage
Small Flawless Natural Crystal
Requires: 32 strength
7.00
0.70%
6.40
1.00
0
+4 constitution
+4/+8 health regeneration in combat
+22.5% nature damage
Converts all damage to nature damage
Small Brilliant Natural Crystal
Requires: 38 strength
8.00
0.80%
8.00
1.00
0
+6 constitution
+6/+12 health regeneration in combat
+30% nature damage
Converts all damage to nature damage
Spirit crystals
Edit
Name
Damage

Critical chance
Armor penetration
Strength modifier
Runes
Enhancements
Notes
Small Chipped Spirit Crystal
Requires: 18 strength
5.00
0.50%
4.00
1.00
0
+5% spirit damage
Converts all damage to spirit damage
Small Flawed Spirit Crystal
Requires: 20 strength
5.00
0.55%
4.60
1.00
0
+10% spirit damage
Converts all damage to spirit damage
Small Clear Spirit Crystal
Requires: 26 strength
6.50
0.65%
5.80
1.00
0
+1 to all attributes
+1 armor penetration
+15% spirit damage
Converts all damage to spirit damage
Small Flawless Spirit Crystal
Requires: 32 strength
7.00
0.70%
6.40
1.00
0
+2 to all attributes
+1.5 armor penetration
+22.5% spirit damage
Converts all damage to spirit damage
Small Brilliant Spirit Crystal
Requires: 38 strength
8.00
0.80%
8.00
1.00
0
+3 to all attributes
+2 armor penetration
+30% spirit damage
Converts all damage to spirit damage
See also
Edit