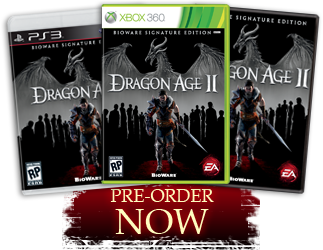 Dragon Age II BioWare Signature Edition was the physical media's premium edition of the game Dragon Age II that was available as a free upgrade if Dragon Age II was pre-ordered before January 11, 2011 for any platform. It was available from GameStop, Amazon, Electronics Boutique, and the EA store on October 14th, 2010 in a limited release, officially until January 11th, 2011. The Black Emporium (DLC) is sold separately, as well as the other contents when the SE is no longer available.[1]
Contents
Edit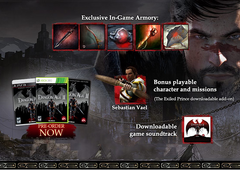 Besides the base game, the Dragon Age II BioWare Signature Edition comes with:
The following items are available in this premium content.

Adder of Antiva
Adder of Antiva
---
Longbow
Gilt Beech
Requires: Archery

Damage: 64 physical damage
(60 per second)


+5% attack speed
+13 nature damage
Apostate's Courage
Apostate's Courage
---
Staff
Requires: Signature Edition (bonus content), Black Emporium

Damage: 22 cold damage
(30 per second)


+13% cold damage
+422 cold resistance

Might of the Sten
Might of the Sten
---
Greatsword
Requires: Two-handed

Damage: 20 physical damage
(33 per second)


+5% attack speed

Ring of Resilience
Ring of Resilience
---
Ring

+1 to all attributes
+2% magic resistance

Seeker's Bulwark
Seeker's Bulwark
---
Metal Shield
Red Steel

Armor: 79


+8 armor
+6% magic resistance
References
Edit
↑ "So, how much is the signature edition after tomorrow?" - Chris Priestly on BioWare Social Network
Dragon Age series
Dragon Age: Origins

Dragon Age II

Dragon Age: Inquisition

Books
Comics
Films
Novels
Web series
Others