Saarebas
Talk

18
6,748pages on
this wiki
For information about the Dragon Age: Redemption character, see Saarebas (Dragon Age: Redemption).
Race:

Class:

Rank:

Affiliation:

Location:

Quests:

Appearances:
The Qunari title of Saarebas is given to all Qunari mages, meaning "dangerous thing".
Background
Edit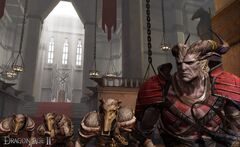 The Qunari treat the Saarebas with the utmost caution, as they do with mages in general, referring to unrestrained ones as "Bas Saarebas". Saarebas must be carefully controlled by a device held by an Arvaarad, "one who holds back evil", because they cannot truly control themselves. The Qunari pity and honor the Saarebas, for striving while under constant threat from within is truly selfless, the highest virtue of the Qun.[1] The strict and regimented treatment of Circle mages by the templars pales in comparison to that of the Saarebas by the Qunari.
Where the Circle mages have relative freedom within their towers, Saarebas are seemingly prisoners within their own body, donning a set of heavy pauldrons with chains attached to them, perhaps to act as a form of leash, while their faces are hidden beneath a metal visor. They have their lips stitched together, although this does not seem to prevent them from speaking normally and might be a symbolic gesture.
Involvement
Edit
Dragon Age: Origins
Edit
Dragon Age II
Edit
Dragon Age: Redemption
Edit
Abilities
Edit
Cone of Lightning
Electrical Field
Lightning Ball
Teleport
Elemental resistances
Edit
Cold: Very weak
Electricity: Normal, or immune on Nightmare mode
Fire: Normal, or immune on Nightmare mode
Nature: Very weak
Spirit: Normal
Special traits
Edit
Immune to Flanking
Very weak health and armor
The Saarebas show distinct similarities to the Damane from Robert Jordan's Wheel of Time series. Both are users of magic considered an uncontrollable danger to others if not held on leashes and controlled by a person learned at restraining them, and both (normally) accept this as a necessity in order to adhere to their rules and serve society.
See also
Edit
Codex entry: The Qunari - Saarebas
References
Edit
↑ "The Qunari". Retrieved 03-04-2011.