For other uses, see Runes (disambiguation).
In Heroes of Dragon Age, runes are used to provide a variety of benefits to your party. Only two runes can be used at a time, and they stay in effect for a limited amount of time (between 5 and 60 minutes, depending on rune type and rarity). They can be obtained from completing challenges, winning banners in events, summoning a hero from a pack, or by purchasing special rune packs.
Runes can also be crafted by selecting two of the same rune. Combining two runes creates a single rune of the next tier up (for example, combining two Common Runes of Control creates one Rare Rune of Control). Unused runes will expire within several days after acquisition; time of expiration varies depending on rune type and rarity.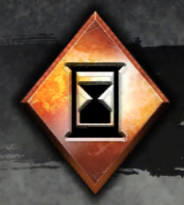 Alacrity: Increases the slow resistance of every hero in your party
Brave Targeting: Units in your squad have a higher chance of attacking the enemy unit with the highest power
Control: Increases the stun resist of every unit in your squad
Greed: Increases the gold you earn
Health: Increases the health of every unit in your squad
Knowledge: Increases the XP each unit in your squad earns
Power: Increases the power of every unit in your squad
Quick Targeting: Units in your squad have a higher chance of attacking the enemy unit with the highest speed
Shielding: Reduces the damage done to units in your squad
Slow Targeting: Units in your squad have a higher chance of attacking the enemy unit with the slowest speed
Speed: Increases the Speed of every unit in your squad
Wounded Targeting: Units in your squad have a higher chance of attacking the enemy unit with the lowest health
Rune of Brave Targeting: Highest Power Level 1 for 00:15:00
Rune of Control: Stun Resist +25% for 00:15:00
Rune of Greed: Gold +5% for 00:05:00
Rune of Health: Health +10% for 00:05:00
Rune of Knowledge: XP +5% for 00:05:00
Rune of Power: Power + 5% for 00:05:00
Rune of Quick Targeting: Fastest Level 1 for 00:15:00
Rune of Shielding: Damage -10 for 00:10:00
Rune of Slow Targeting: Slowest Level 1 for 00:15:00
Rune of Wounded Targeting: Lowest Health Level 1 for 00:15:00
Uncommon
Edit
Rune of Alacrity: Slow Resist +30% for 00:20:00
Rune of Brave Targeting: Highest Power Level 2 for 00:30:00
Rune of Control: Stun Resist +25% for 00:30:00
Rune of Greed: Gold +5% for 00:15:00
Rune of Health: Health +10% for 00:10:00
Rune of Knowledge: XP +50% for 00:20:00
Rune of Power: Power +10% for 00:10:00
Rune of Quick Targeting: Fastest Level 2 for 00:30:00
Rune of Shielding: Damage -25 for 00:10:00
Rune of Slow Targeting: Slowest Level 2 for 00:30:00
Rune of Speed: Initiative +1 for 00:30:00
Rune of Wounded Targeting: Lowest Health Level 2 for 00:30:00
Rune of Alacrity: Slow Resist +35% for 00:25:00
Rune of Brave Targeting: Highest Power Level 3 for 01:00:00
Rune of Control: Stun Resist +35% for 00:25:00
Rune of Greed: Gold +25% for 00:25:00
Rune of Health: Health +20% for 00:10:00
Rune of Knowledge: XP +75% for 00:25:00
Rune of Power: Power +20% for 00:10:00
Rune of Quick Targeting: Fastest Level 3 for 01:00:00
Rune of Shielding: Damage -1500 for 00:10:00
Rune of Slow Targeting: Slowest Level 3 for 01:00:00
Rune of Speed: Initiative +1 for 00:05:00
Rune of Vigor: Power drain resist +35% for 00:25:00
Rune of Wounded Targeting: Lowest Health Level 3 for 01:00:00
Rune of Alacrity: Slow Resist +40% for 00:30:00
Rune of Brave Targeting: Highest Power Level 4 for 02:00:00
Rune of Control: Stun Resist +40% for 00:30:00
Rune of Greed: Gold +35% for 00:30:00
Rune of Health: Health +40% for 00:15:00
Rune of Knowledge: XP +100% for 00:30:00
Rune of Power: Power +40% for 00:10:00
Rune of Quick Targeting: Fastest Level 4 for 00:20:00
Rune of Shielding: Damage -3000 for 00:10:00
Rune of Slow Targeting: Slowest Level 4 for 00:20:00
Rune of Speed: Initiative +1 for 00:10:00
Rune of Vigor: Power Drain Resist +40% for 00:30:00
Rune of Wounded Targeting: Lowest Health Level 4 for 00:20:00
Legendary
Edit
Rune of Alacrity: Slow Resist +50% for 00:30:00
Rune of Control: Stun Resist +50% for 00:30:00
Rune of Greed: Gold +50% for 00:45:00
Rune of Health: Health +60% for 00:30:00
Rune of Knowledge: XP +125% for 45:00
Rune of Power: Power +50% for 00:15:00
Rune of Shielding: Damage -4500 for 00:10:00
Rune of Speed: Initiative +1 for 00:20:00
Rune of Vigor: Power Drain Resist +50% for 00:30:00
Rune of Alacrity: Slow Resist +60% for 01:00:00
Rune of Control: Stun Resist +60% for 01:00:00
Rune of Greed: Gold +100% for 01:00:00
Rune of Health: Health +100% for 01:00:00
Rune of Knowledge: XP +150% for 01:00:00
Rune of Power: Power +100% for 01:00:00
Rune of Shielding: Damage -6000 for 00:10:00
Rune of Speed: Initiative +1 for 00:45:00
Rune of Vigor: Power Drain Resist +60% for 01:00:00