Ad blocker interference detected!
Wikia is a free-to-use site that makes money from advertising. We have a modified experience for viewers using ad blockers

Wikia is not accessible if you've made further modifications. Remove the custom ad blocker rule(s) and the page will load as expected.
For other uses, see Runes (disambiguation).
In Heroes of Dragon Age runes are used to provide a variety of benefits to your party. Only two runes can be used at a time and they do not stay in your inventory after a certain number of days. They can be obtained from beating challenges, winning banners in events, or summoning a hero from a pack.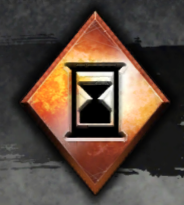 Brave Targeting: Units in your squad have a higher chance of attacking the enemy unit with the highest power
Control: Increases the stun resist of every unit in your squad
Greed: Increases the gold you earn
Health: Increases the health of every unit in your squad
Knowledge: Increases the XP each unit in your squad earns
Power: Increases the power of every unit in your squad
Quick Targeting: Units in your squad have a higher chance of attacking the enemy unit with the highest speed
Shielding: Reduces the damage done to units in your squad
Slow Targeting: Units in your squad have a higher chance of attacking the enemy unit with the slowest speed
Speed: Increases the Speed of every unit in your squad
Wounded Targeting: Units in your squad have a higher chance of attacking the enemy unit with the lowest health
Rune of Brave Targeting: Highest Power Level 1 for 00:15:00
Rune of Control: Stun Resist + 25% for 00:15:00
Rune of Greed: Gold +5% for 00:05:00
Rune of Health: Health + 5% for 00:05:00
Rune of Knowledge: XP +5% for 00:05:00
Rune of Power: Power + 5% for 00:05:00
Rune of Quick Targeting: Fastest Level 1 for 00:15:00
Rune of Shielding: Damage -10 for 00:10:00
Rune of Slow Targeting: Slowest Level 1 for 00:15:00
Rune of Wounded Targeting: Lowest Health Level 1 for 00:15:00
Uncommon
Edit
Rune of Brave Targeting: Highest Power Level 2 for 00:30:00
Rune of Control: Stun Resist + 25% for 00:30:00
Rune of Greed: Gold + 5% for 00:15:00
Rune of Health: Health + 5% for 00:10:00
Rune of Knowledge: XP + 50% for 00:15:00
Rune of Power: Power + 5% for 00:10:00
Rune of Quick Targeting: Fastest Level 2 for 00:30:00
Rune of Shielding: Damage -25 for 00:10:00
Rune of Slow Targeting: Slowest Level 2 for 00:30:00
Rune of Speed: Initiative + 1 for 00:30:00
Rune of Wounded Targeting: Lowest Health Level 2 for 00:30:00
Rune of Brave Targeting: Highest Power Level 3 for 01:00:00
Rune of Control: Stun Resist + 35% for 00:15:00
Rune of Greed: Gold + 10% for 00:30:00
Rune of Health: Health + 10% for 00:05:00
Rune of Knowledge: XP + 75% for 00:30:00
Rune of Power: Power + 10% for 00:05:00
Rune of Quick Targeting: Fastest level 3 for 01:00:00
Rune of Shielding: Damage - 50 for 00:10:00
Rune of Slow Targeting: Slowest Level 3 for 01:00:00
Rune of Wounded Targeting: Lowest Health Level 3 for 01:00:00
Rune of Brave Targeting: Highest Power Level 4 for 02:00:00
Rune of Control: Stun Resist + 25% for 00:15:00
Rune of Greed: Gold + 20% for 00:15:00
Rune of Health: Health + 10% for 00:10:00
Rune of Knowledge: XP + 100% for 00:15:00
Rune of Power: Power + 10% for 00:10:00
Rune of Quick Targeting: Fastest Level 4 for 00:20:00
Rune of Shielding: Damage -75 for 00:10:00
Rune of Slow Targeting: Slowest Level 4 for 00:20:00
Rune of Speed: Initiative + 1 for 00:10:00
Rune of Wounded Targeting: Lowest Health Level 4 for 00:20:00
Legendary
Edit
Rune of Control: Stun resist + 50% for 00:30:00
Rune of Greed:
Rune of Health: Health + 25% for 00:05:00
Rune of Knowledge: XP + 100% for 30:00
Rune of Power: Power + 25% for 00:05:00
Rune of Shielding: Damage -200 for 00:10:00
Rune of Speed: Initiative + 1 for 00:15:00