Reavers
Talk

0
6,748pages on
this wiki
Redirected from Reaver
For the specialization in Dragon Age: Origins, see Reaver (Origins).
For the specialization in Dragon Age II, see Reaver (Dragon Age II).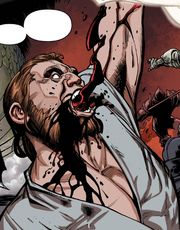 Reavers are people who drink the ritually prepared blood of a dragon which is considered to give power.
Background
Edit
Life is power. Blood mages know this, but they are not the only ones. Warriors can also command the energy that flows through blood and bone, but it is not an easy path. The Reaver specialization trades pain for strength in a constant balance of selfish sacrifice. At first it seems that Reavers are doing the work of their enemies, damaging themselves in gruesome fashion. But Reavers can transform their own living essence into raw damage, and then replenish that health by stealing the life from their foes. It's a dangerous gamble that counts on added strength to destroy enemies before incoming attacks or the Reavers' own abilities kill them. At its best, the Reaver specialization results in a brutal harmony. The closer they are to their own deaths, the more efficient they are at inflicting the same on others.[1]
Known reavers
Edit
See also
Edit
Codex entry: Dragon Cults
References
Edit
↑ "Warrior Class". Retrieved 02-09-2011.
↑ Mentioned by Sten as the Arishok in Dragon Age: Until We Sleep Vol 1.