Queen spider
Talk

0
6,749pages on
this wiki
Affiliation:

Rank:

Variations:

Locations:

Appearances:
The Queen Spider is a huge spider capable of webbing its opponents. It is queen of the Spiderling, Giant spiderling, and Giant spider.
Web
Poison Spit
Overwhelm
Corruption Burst
Only dangerous if attempting to solo, otherwise the Dark Forest encounter can be beaten with simple focus fire.
When soloing do not let your health dip below 50%, this is usually when Overwhelm is used.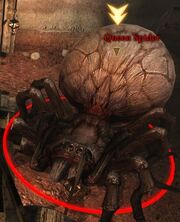 Dragon Age II
Edit