Merrill
Talk

137
6,750pages on
this wiki
Merrill is an elven mage and First to the Keeper of the Sabrae clan. She is a temporary companion to the Dalish elf Warden during the Dalish Elf Origin in Dragon Age: Origins, and a companion and romance option for a male or female Hawke in Dragon Age II.
Background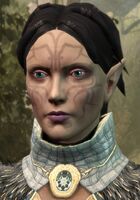 Merrill was born into the Alerion clan, which wandered the hills of Nevarra. She was the third child of the clan with magic born to her. Following the next Arlathvenn, the gathering of Dalish clans, she was given to the Sabrae clan to be First to Keeper Marethari.[1]
Merrill can recite all of known elven history and navigate the Fade, but has very little experience with the world or even her own people. Forced to flee north, she must find help for her people, whatever the cost.[2]
Involvement
Dragon Age: Origins
Merrill is a temporary party member in the Dalish Elf Origin. When Tamlen goes missing in old ruins, the Keeper asks Merrill to accompany The Warden to help find him. Marethari believes that Merrill's magic and knowledge of elven lore may help in the search. Tamlen cannot be recovered, but Merrill does not appear to contract the sickness that affects the Dalish elf in the course of the search, and she continues to live with the clan. If a save from Dragon Age: Orgins is imported with a Dalish Origin Character to Dragon Age 2, Merrill will express her discomfort around humans since her friend was taken away.
Dragon Age II
Romance
Friendship and Rivalry

Merrill's friendship can be gained by:
Helping the mages or the elves.
Choosing options that favor blood magic or demons.
By being agreeable to her in conversation.
Quests
Dragon Age: Origins
The Lost Mysteries of the Ancients
Dragon Age II
Act 1
Long Way Home
Welcome Home
Nice Crime You Have Around Here
Act 2
Consoling Words
Mirror Image
Back from Sundermount
Questioning Beliefs
Merrill, An Apology
Wooden Halla
(gift)
Act 3
The New Place
A Talking To
A New Path
Merrill, Friend or Foe?
Memento of the Dalish
(gift)
Mark of the Assassin
Merrill is the only companion who has no quest in this DLC.
Gifts
Initial statistics
Dragon Age: Origins
Class: Mage
Specialization: Blood Mage
Starting spells/skills: Herbalism, Combat Tactics
Mage: Arcane Bolt
Primal: Flame Blast, Flaming Weapons
Entropy: Weakness
Dragon Age II
Talent trees
Gear
Dragon Age: Origins
Acolyte's Staff
Acolyte's Staff
---
Staff
Iron (Tier 1)
Requires: 16 magic

Damage: 4.00 (Physical)
Armor penetration: 20.00
+2 spellpower
Tevinter Mage Robes
Tevinter Mage Robes
---
Clothing


The robes of the Tevinter mages are often enchanted to increase the wearer's magical prowess. This robe is particularly elaborate, and must have belonged to a prominent mage at some point.



+1/+2 mana regeneration in combat
+4% spell resistance
+5 spellpower
Dragon Age II
Merrill's armor, Vestments of the First, can be upgraded four times:
Companion-Restricted Gear
Vir Tasallan
Vir Tasallan
---
Staff
Aurum

Damage: 9 nature damage
(12 per second)
Sylvanwood Ring
Sylvanwood Ring
---
Ring

+2% critical chance
+8% critical damage
+4% nature damage

The Inner Eye
The Inner Eye
---
Ring

+2 to all attributes
+15% electricity damage
+15% nature damage
Blood Magic: Each point of health provides 0.25 additional mana
Improves with level-up
(requires
Mage Item Pack 1
DLC
)
Sylaise's Favor
Sylaise's Favor
---
Amulet

+1-2 magic
+16-82 attack
+4 mana/stamina regeneration rate
+9-14% fire damage
+9-14% cold damage
+9-14% spirit damage
Improves with level-up
(requires
Mage Item Pack 2
DLC)
Quotes
Trivia
Mary Kirby wrote Merrill for Dragon Age II.[3]
According to David Gaider, Eve Myles was last on the list of "actors I specifically asked for and got on the first try".[4]
Merrill means shining sea in Gaelic (Irish).
If you give Merrill the Halla Carving bought from Master Ilen's Shop in Act 2, it will be on display on the table beside the door to her home in Act 3 and the rest of Act 2.
Bugs
Upon returning to the alienage after completing Long Way Home, selecting the option "I don't think so." when asked if you wish to stop by later and flirting with her during Welcome Home may lead to a bug with her approval for Hawke, making it impossible to gain any friendship or rivalry points with Merrill henceforth. Note: It has also been noted that this bug randomly occurs even if you select the "I Will." option and later flirt with her. You'll know it's not working because you'll gain no friendship after all friendly and flirt dialogue options have been concluded in Welcome Home. If this does happen, simply reload and do not select the flirt option when chatting with Merill in Welcome Home.
If the sibling either joined the Wardens or died during the expedition, the quest "Mourning" was supposed to take place.[5] However, it has since been cut from the game, but may reappear if the game has not been patched.[6]
There have been some cases where, during the sex scene between her and Hawke, some graphical issues occur. Such reports claim that the two characters abruptly show up standing idly at the entrance to the Hawke estate, both in their intimate attire. The dialogue wheel, however, is still present and choosing any option will promptly fix the bug, placing the characters in their proper place and the scene will proceed normally.

xbox360

During Act 3, the Questioning Beliefs involving Merrill's reaction to the end of A New Path will occur, even before you completed the quest, where she is upset by the death of her clan's Keeper. It can be worked around, but is messing with the chronological order of the related quests. (2, 1, 3).
In Act 3, when initiating A New Path, it seems that if you are on a path of rivalry with Merrill, she will mention you keeping the arulin'holm from her, even if you gave it to her.
If her clan is wiped out after her personal quest A New Path, she is stuck to your party, being locked forever. This can be fixed by either taking another quest where a party member is locked in, such as Sebastian's Faith, or by returning home to the Hawke estate. Both methods will remove all current party members, restoring Merrill's unlocked status.
With patch 1.03, some of the Act 3 romance scenes may not trigger properly, but the flow will proceed as planned.
Gallery
Codex entries
Codex entry: Merrill
Codex entry: Merrill - After the Deep Roads
Codex entry: Merrill - The Last Three Years
References
External links