Meredith Stannard
Talk

16
6,749pages on
this wiki
Character
Meredith Stannard

Race:

Gender:

Female

Class:

Rank:

Elite Boss

Title:

Specialization:

Location:

Family:

Appearances:
Meredith Stannard is the Knight-Commander of the Templars of Kirkwall.
Background
Edit
An orphaned native of Kirkwall, Meredith rose in the ranks of the Templar Order and became an accomplished warrior. In 9:21, when Viscount Perrin Threnhold attempted to oust the domineering Templars from the city, Meredith retaliated after the hanging of Knight-Commander Guylian, ending with the arrest of Viscount Threnhold. Grand Cleric Elthina then promoted her to lead the Order and she has governed with an iron fist, though few doubt that her influence is reserved to the Templars as it was at her behest that the current Viscount was appointed.
Click here to reveal spoilers
for Dragon Age II.
If you side with Meredith at the start of Act 3 and help the Templars during On The Loose, when you start the quest Best Served Cold, you can question Meredith during dialogue and she will explain why she has such a hatred for mages: When Meredith was younger, her sister Amelia developed magical talents but her family decided to shield her from the Chantry, knowing that she couldn't survive in the Circle or face their rigorous tests. One day, Meredith's sister was possessed by a demon, turned into an abomination and killed the rest of her family save for Meredith, who survived. The Templars eventually slew her sister, but not before the Abomination killed 70 villagers. This experience led to Meredith's harsh view on magic and why she thinks mages must be treated as people with a curse.
Involvement
Edit
Click here to reveal spoilers
for Dragon Age II.
Meredith holds the title of Knight Commander in Kirkwall at the start of the events of Dragon Age II. In Act 1 Meredith initially denies all Fereldens from entering Kirkwall, including Hawke and his/her companions, she also makes a brief appearance right before you begin your first conversation with Bartrand. She keeps strict watch on the mages of the Circle, and champions the use of harsh measures to prevent apostate mages, though she denies Ser Otto Alrik the use of his "Tranquil Solution" plan to turn all mages in Kirkwall into Tranquils. She is also the real political power in Kirkwall, as the current viscount fears to go against her wishes. Meredith's obsession with controlling mages borders on paranoia, and she is willing to oppress, intimidate, and neutralize anyone to root out corruption with in the mages. She appears to view the very existence of magic and mages as a threat to the general populace.
During the Qunari invasion of Kirkwall, Meredith saved Hawke and his/her companions from a saarebas. Soon after Meredith joined forces with both Hawke and First Enchanter Orsino in an attempt to regain the Viscount's Keep. When Hawke is able to convince the Qunari to leave or defeats their Arishok in combat, Meredith appoints Hawke Champion of Kirkwall. She does so reluctantly, however, as she viewed Hawke's new influence in the city as a potential threat and initially viewed the foreign Hawke with disdain.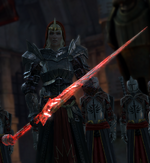 At some point after Hawke accompanied Bartrand and Varric into the Deep Roads, Meredith was able to obtain most of the lyrium idol which they had discovered. She had this shaped into a sword for herself. However, the unknown type of lyrium it was composed of caused her to go insane, just as it had done to Bartrand. This development exacerbated her paranoia and prejudices against mages, and tensions between herself and First Enchanter Orsino rose over the three years following the death of Viscount Marlowe Dumar. She had Kirkwall placed under martial law and refused every attempt to replace Dumar. According to Ser Karras she went as far as to request the Divine in Val Royeaux for the Right of Annulment even prior to the beginning of Act 3.
After Anders destroyed the Chantry in his attempt to free the mages (The Last Straw), Meredith retaliates by invoking the Right of Annulment on the Circle, even though they were uninvolved (as Anders was an apostate mage). The Champion can choose to side with her or support the Circle. Regardless of whether Hawke sides with the Circle or Templars, Meredith will turn on Hawke, accusing the Champion of conspiring the whole ordeal and orders the Champion to be executed. Her second-in-command Cullen, who was usually supportive of her harsh measures, sees her insanity has become so pronounced and orders her to step down.
This serves to increase her paranoia, as she accused all of her subordinates of being blood mage thralls. She then reveals the sword made of the lyrium idol found during Champion's earlier trip to Deep Roads. The sword grants her superhuman abilities and the capability of animating statues; nevertheless, the Champion and their companions are able to defeat her. In the midst of the battle, Meredith begins to question if what she was doing was right but her doubts are quickly washed away. As she refused to admit defeat, her sword then shatters and Meredith withers and is petrified in lyrium. Lightly implied, it seemed that the sword made of the lyrium idol corrupted and drove her insane, just like what happened to Bartrand.

Ironically, her attempts to enclose the mages became the catalyst for the rebellion of the other circles in Thedas: seeing that the templar order in Kirkwall could be defeated, and hearing of the corruption and abuse in the templar ranks, inspired mages everywhere to rebel. After Cassandra comments the knight commander's turning against the Champion or provoking the circle started the war, Varric said that it was she, the idol or Anders.
Act 2
Demands of the Qun
Act 3
Showdown
On the Loose
Best Served Cold
The Last Straw
"What I have done is protected the people of this city, time and again. What I have done is protect you mages from your curse and your own stupidity! And I will not stop doing it. I will not lower our guard, I dare not!"
"What other option do we have? Shall we look the other way? Tell the poor victims of a possessed mage that we meant no harm? Tell me, Champion, that you have not seen with your own eyes what they can do, heard the lies of mages who seek power?"
(To Orsino) "I know, and it breaks my heart to do it, but we must be vigilant. If you cannot tell me a better way, do not brand me a tyrant!"
"Blessed are those who stand before the corrupt and the wicked and do not falter!"
"Why is this taking so long? Can ones so evil truly be so powerful? Maker, guide your servant. Please, tell me what I must do! What if... I'm not doing the right thing? What if this is all madness?... No! I must remain vigilant!"
"I tried to have sympathy! Maker knows, I've tried! But how can we allow them freedom when so many would use it to commit atrocities? They control minds, they become abominations, they began the Blight itself!"
David Gaider wrote Meredith for Dragon Age II.[1]
Meeting her is required for the "Friends in High Places" achievement, along with Viscount Marlowe Dumar, First Enchanter Orsino, and Grand Cleric Elthina.
Meredith is also one of the figures on the starting screen of the game along with First Enchanter Orsino.
During the brief period in Demands of The Qun where Meredith fights alongside Hawke, she actually has no weapon in hand at all.
Codex entries
Edit
Codex entry: Knight-Commander Meredith
Codex entry: History of Kirkwall: Chapter 4
References
Edit
↑ Gaider, David. "Meredith Knight-Commander of the Templar's: Appreciation thread. ". BioWare Social Network. Retrieved 2011-01-17.