Mark of the Assassin is the opening quest for the Mark of the Assassin DLC for Dragon Age II.
Acquisition
Edit
Hawke can initiate this quest by selecting the corresponding statue, "Memento of Mark of the Assassin".
Walkthrough
Edit
Varric is confronted by the Seeker Cassandra that Champion was involved with an incident that could cause war with Orlais. After some subtle threats, Varric relents and starts the tale.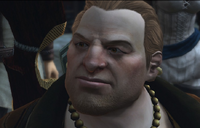 Varric's contact Edge wants to talk to Hawke and company, "something to do with you and nobles." One of the companions will point out the inevitability of an ambush, which gets Varric defensive. The party is then attacked by the Antivan Crows, but interrupted by an elf, Tallis, who has been looking for Hawke to steal a jewel, the Heart of the Many, from Duke Prosper.
Hawke follows Tallis to Chateau Haine.
Ad blocker interference detected!
Wikia is a free-to-use site that makes money from advertising. We have a modified experience for viewers using ad blockers

Wikia is not accessible if you've made further modifications. Remove the custom ad blocker rule(s) and the page will load as expected.