Map to a Waterfall is a side quest in Dragon Age: Inquisition.
Acquisition
Edit
Picking up a map near the Upper Lake camp, near Lake Luthias, begins the quest.
Walkthrough
Edit
The spot shown on the map is found at the back of the Templar Encampment, on the west side. This is the location of Templars to the West and is found south of the Broken Bridge landmark.
Follow the path beside the river toward the waterfall to find the patch of dirt.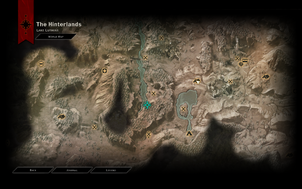 44 XP
40 Influence
Ironbark

Ironbark

---

Critical-Crafting Material


This masterwork material gives a chance for critical crafting.


(3)
Belt of the Winter Pact

Belt of the Winter Pact

---

Rare Belt



Cold-based abilities are slightly more powerful at the cost of a small amount of health.
See also
Edit

Codex entry: Map to a Waterfall