Lothering
Talk

27
6,985pages on
this wiki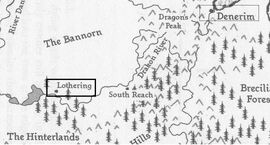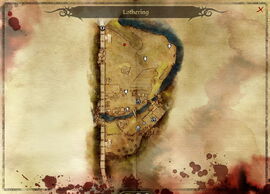 Lothering is a village north of Ostagar, located on The West Road. Historically, Lothering arose on a crossroads of the Imperial Highway, being a little more than a trading post serving the fortress of Ostagar to the south. In present times, however, it supplies goods to Redcliffe Village and the community of merchants and surface dwarves in the Frostback Mountain Pass. In time, the settlers became self-sufficient through mills and farmland.[2] During the events of the Fifth Blight has recently become the home of many refugees escaping the darkspawn horde approaching from the Korcari Wilds. Either as a result of the current turmoil or religious duty, Lothering has a modest presence of the Chantry and their Templars.
Background
Edit
Lothering chantry
Dane's Refuge
Involvement
Edit
Dragon Age: Origins Edit
Dragon Age II Edit
Main quests
Edit
Lothering and the Imperial Highway
Side quests
Edit
Bandits on the Road
A Fallen Templar
More Than Just Plants
The Qunari Prisoner
The Unscrupulous Merchant
Traps are a Girl's Best Friend
A Poisonous Proposition
Chanter's Board
Edit
A Last Keepsake
Bandits, Bandits, Everywhere
When Bears Attack
The Blackstone Irregulars
Edit
Scraping the Barrel
Dereliction of Duty
Characters
Edit
Allison - quest giver
Elder Miriam - quest giver
Sten - a possible companion - If you free him by simply lockpicking the cage, he may refuse to come by saying "Unlocking the cage does not make me free".
Little Boy (suspected child of Goodwife Sarha)
Robbed Family (a family of elves: Robbed Man, Robbed Woman and Robbed Child)
Refugees
Chasind
Helpful Refugee
Bodahn Feddic and his son, Sandal
Entering the town
Fields
North exit
Notable items
Edit
See Barlin and Merchant for merchants' item lists.
Heavy Chainmail armor set
Heavy Chainmail armor set
---

Varies (Tier 1-7)

Armor: 8.50
Fatigue: 18.00%
Set: -3% fatigue
, found on body of armored bandit leader.
Imperium Crossbow
Imperium Crossbow
---
Crossbow
Dragonthorn (Tier 7)
Requires: 30 strength

Damage: 12.80
Critical chance: 3.20%
Armor penetration: 11.00
Increased damage vs. demons (PC version) + 2 damage -1 dexterity (console version)
, may be stolen from the unscrupulous merchant near the Chantry.
Knight's Locket
Knight's Locket
---
Plot Item


This golden locket bears within it a tiny painting of a pretty brown-haired woman. It is impossible to tell who the woman might be, but whoever owned the locket was quite fond of her.



, quest item, found on dead Templar's body.
Knight's Note
Knight's Note
---
Plot Item


This crumpled note is written by Ser Henric, a knight of Redcliffe. (Codex)



, quest item, found on dead Templar's body.
Oathkeeper
Oathkeeper
---
Longsword
Steel (Tier 3)
Requires: 15 strength

Damage: 8.40
Critical chance: 2.40%
Armor penetration: 2.60
Strength modifier: 1.00



+1.5 armor penetration
+10% to healing effects received
, quest reward.
Qunari Thickened Cap
Qunari Thickened Cap
---
Light helmet
Reinforced (Tier 5)
Requires: 17 strength

Armor: 1.75
+10 mental resistance
, found on body of armored bandit leader.
Sarha's Keepsake
Sarha's Keepsake
---
Plot Item


A copper filigree ring.



, quest item, found on body of his mother.
Surveyor
Surveyor
---
Ring


Jewelry worn on the finger.



+1 to willpower
, obtained by demanding the highwaymen return stolen goods.
Notable gifts for companions:
Golden Scythe 4:90 Black
Golden Scythe 4:90 Black
---
Gift


This battlefield spirit maintains a chill even in direct sunlight, which it appears to absorb. Optimal serving is by the drop. Contact with exposed flesh is discouraged, but likely inevitable.



,
crate
at Lothering. +10 to Oghren.
Small Carved Statuette
Small Carved Statuette
---
Gift


A small carving of a robed woman.



,
crate
in the far north of Lothering where the party encounters darkspawn attacking
Bodahn Feddic
. +10 to Alistair.
Wine
Wine
---
Gift


A flask of red wine.



, sold by the unscrupulous merchant. + 10 to Wynne.
Codex entries
Edit
Codex entry: Lothering
Codex entry: The Chasind
Codex entry: Sten
Codex entry: The First Blight: Chapter 1
Codex entry: Adventures of the Black Fox
Codex entry: The Sacred Ashes of Andraste
Codex entry: The Imperial Chantry
Codex entry: Maleficarum Regrets
Containers
Edit
Near highway bandits
Southern refugee camp
South of creek
North of creek
North bandit camp
Highway north exit
Companion remarks
Edit
One of your companions (mainly Alistair and Morrigan) may make interesting remarks at certain spots in the town:
Entering Lothering proper
Near the Chanters' Board
At the statue of Andraste in the Chantry
Exiting Lothering proper into the fields
Party banter may be triggered at the following spots:
In the south refugee camp
On the bridge over the creek
Near the well in the north half of the town
David Gaider named Lothering. He'd watched 'Fear and Loathing in Las Vegas' the night before and used that as the basis of the name. For a time, the plot of Lothering was called 'Fear and Loathing in Ferelden.' [3]
Lothering is the base of the band of Templars featured in the Penny Arcade Dragon Age comic.
References
Edit
↑ Searle, Mike. "Traveler's Guide: Ferelden Details". Dragon Age: Origins Collector's Edition: Prima Official Game Guide.
↑

Dragon Age II Official Mini guide