Leandra Amell
Talk

26
11,199pages on
this wiki
"We've lost it all. Everything your father and I built."
Leandra Amell is the mother of Hawke, Bethany, and Carver by an apostate mage. Her family, the Amells, are nobility in Kirkwall.
Background
Edit
Leandra Amell was the pride and joy of the Amell family. She was due to marry the Comte de Launcet but instead eloped with an apostate named Malcolm Hawke. They fled together to Ferelden and while on the run from templars, had three children: Hawke and the twins Bethany and Carver.
Involvement
Edit
Leandra escapes with her family from The Destruction of Lothering, where they had lived for several years. During their flight through the Blightlands, one of her twins is slain by an ogre. She blames her oldest child, Hawke, for this, as she believes that he/she could have prevented her child from "charging off." Leandra and her children, along with Aveline Vallen, escape to Gwaren with the aid of Flemeth, the Witch of the Wilds. There, they take a ship to Kirkwall, planning to flee to the estate which belonged to Leandra's family, the Amells. However, Leandra's younger brother Gamlen lost the estate some years earlier due to his gambling habit. To help his family gain entrance into the city, Gamlen commits Leandra's children to working for either mercenaries or smugglers for a year.
Leandra and Gamlen experience some conflict over money, as well as the loss of the Amell estate. Hawke and their sibling can go to the vault of the old estate to find their grandfather's will, which shows that their grandfather left the estate to Leandra and her children while Gamlen was to receive a stipend controlled by her. Leandra still expresses sadness at the loss of the twin in Lothering, but does not seem to blame Hawke for the death anymore; indeed, if Hawke asks her about it directly, she apologizes for having lashed out in her grief.
Before Hawke sets out for the Deep Roads expedition, Leandra pleads for her other child to stay behind: she fears losing both children should the expedition fail.
Upon Hawke's profitable return from the Deep Roads, the family regains control of the old Amell estate from the slavers and Leandra tells Hawke how proud she is. She talks about finding a suitable partner for Hawke and even entertains the idea of remarrying. If Hawke is in a romance, she briefly acknowledges it. Bodahn Feddic and his son Sandal become part of Hawke's household at this point; Bodahn refers to Leandra as "Mistress Amell" and appears to be quite fond of her.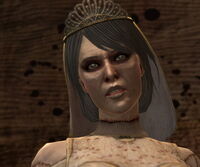 When Hawke investigates the mystery over the missing women in Kirkwall, Leandra is abducted by the white-lily serial killer while on her way to visit Gamlen. Following the killer's trail, Hawke finds that Leandra has been murdered and pieced together with parts of other women by the killer, kept alive by his magic as he believes she looked like his deceased wife. During his battle with Hawke, the killer causes Leandra to appear in the possessed form of a desire demon along with his other victims, Ninette de Carrac and Alessa. Before Leandra dies, she tells Hawke how proud she is of her eldest.
If Leandra is dead when
Legacy
is played, her ghost appears to Hawke at the end of the
DLC
. She converses with her child about her husband,
Malcolm
.
Varric
, in his role as narrator, admits that this conversation did not actually take place, but says that he feels Hawke deserves the closure and so he has added it to their story. The conversation will still happen if
Legacy
is completed before her death, but will have a slightly different tone (and of course will need no explanation from Varric)
"Those elves you're friends with, they're... Rather strange, aren't they?"
"My little boy/little girl has grown so strong. I love you. You've always made me proud."
(After Hawke's sibling dies in the Blightlands, if a diplomatic option is chosen) "I don't want a hero, I want my son/daughter!"
(The same as above, but to a humorous reply) "Don't speak to me of grief! This is your fault! How could you let him/her charge off like that?"
(The same as above, but to a direct reply) "Don't lecture me! This is your fault! How could you let him/her charge off like that?"
Leandra is related to the human Warden from the Magi Origin; she is the cousin of the Warden's mother, Revka.[1]
Like the Hawke twins and Gamlen, Leandra can have an alternate appearance (facial features and hairstyle) depending on the face preset the player chooses during the character creation. Her hair will always be grey.
References
Edit
↑ David Gaider. "Is Hawke related to the mage warden?" . The BioWare Forum.