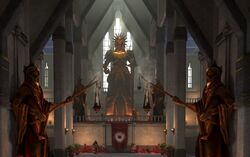 The Kirkwall Chantry is the seat of the Chantry in Kirkwall.
Background
Edit
Kirkwall's chantry towers above the estates of Hightown, rivaled only by the Viscount's Keep. The chantry serves as a symbol as much as it does a place of worship: a symbol of the Chantry's importance in the tradition and the lives of Kirkwall's citizens, and its iron grip on the mages.
The chantry was originally a wealthy magister's estate during the Tevinter Imperium's rule over Kirkwall. It was rebuilt and converted into the city's religious center after the slave uprising.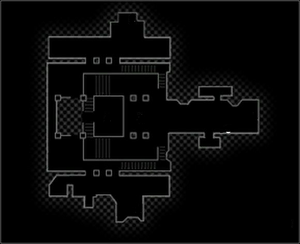 Involvement
Edit
The chantry is home to Grand Cleric Elthina, the voice of the Divine in Kirkwall. It also houses the dispossessed Prince of Starkhaven, Sebastian Vael.
Characters
Edit
Grand Cleric Elthina
Sister Lorena
Sister Samea

Tranquility

Duty

Fools Rush In

Locks of the Golden Fool

The Remains of Sister Plinth

Following the Qun

Repentance

Questioning Beliefs

The Starkhaven Longbow
(gift)

Forbidden Knowledge

Faith

Questioning Beliefs
Codex entries
Edit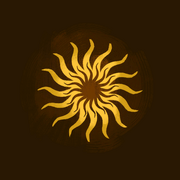 Codex entry: Andraste: Bride of the Maker

Codex entry: The Commandments of the Maker

Codex entry: The Maker

Codex entry: The Sermons of Divine Renata I

Codex entry: The History of the Chantry: Chapter 1

Codex entry: The Founding of the Chantry

Codex entry: Par Vollen: The Occupied North

Codex entry: The History of the Chantry: Chapter 2

Codex entry: The History of the Chantry: Chapter 3

Codex entry: The Enigma of Kirkwall

Codex entry: Forbidden Knowledge
(Upon clicking on an
Evil Tome
)

Codex entry: The History of the Chantry: Chapter 4
In Act 2, if Aveline Vallen is in the party and spoken to while in the chantry, she will sometimes remark "I'm uncomfortable around chantry sisters. All because of that red-haired trickster in Lothering." This is a reference to Leliana from Dragon Age: Origins.
In Act 1 Bethany Hawke claims that she misses Sister Leliana's story telling.
References
Edit
↑ Dragon Age: The World of Thedas, vol. 1, p. 99
Ad blocker interference detected!
Wikia is a free-to-use site that makes money from advertising. We have a modified experience for viewers using ad blockers

Wikia is not accessible if you've made further modifications. Remove the custom ad blocker rule(s) and the page will load as expected.