Hurlock
Talk

3
6,976pages on
this wiki
Taller than their
genlock
cousins, the hurlocks are roughly of human-size but are possessed of considerable strength and constitution. The shock troop of the
darkspawn
, a single berserking hurlock can often be a match for numerous opponents at once. They are known to adorn themselves with roughly-carved tattoos to keep track of their kills and deeds, though it is unknown whether or not there is a uniform standard to these markings.
—From
Codex entry: Hurlock
Hurlocks are a breed of darkspawn both taller and more muscular than genlocks and often form the strongest part of darkspawn armies. They are known to excel at using two-handed weapons. Hurlock alphas are among the best of the best of the darkspawn shock troops, and are particularly fierce in close combat.
Among their ranks, hurlocks are differentiated by their abilities. The most basic hurlocks are the most common, and serve as heavy infantry.
Dragon Age: Origins
Edit
Background
Edit
While often paired with genlocks, these darkspawn are much more of a threat. Not only do they tower above their brethren, but their strength and constitution are also much higher. While a genlock may be felled with two or three strikes, these hurlocks are a much greater force to be reckoned with, as many battle worn warriors have been battered and broken by only one. Not known for tactical prowess, hurlocks have to be told where to go. But once they're there, there's no need for instruction. These darkspawn are masters of the blade; crippling, shattering, battering, bruising, slashing, hacking, tearing, ripping, biting, stabbing, strangling are all easy feats for these monstrosities. Although by no means the most powerful, they are the most infamous darkspawn, as many survivors of a darkspawn raid will only remember the armored, bloodied corpse-like, foul creatures that killed their friends and slaughtered their children. Foul indeed, while not exactly graceful, the job is always done with these darkspawn. Hurlocks are born from broodmothers that were once female humans.
Assault
Berserk
Shield Bash
Dragon Age II
Edit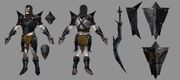 Background
Edit
In Dragon Age II, hurlocks have undergone a significant cosmetic change, with much more humanoid facial traits rather than the monstrous features of Origins, and have far paler skin. They first appear in the Blightlands and are initially relatively minor enemies. Armed with a single sword and lightly armored, hurlocks will quickly succumb to any persistent attack. Hurlocks charge in small groups, occasionally in concert with Hurlock Grunts and Hurlock Bolters.