"A place for all in service here,
To rest, recoup, and persevere,
Though weighs the heart, remember best,
Your saving grace, the Herald's Rest" ―Plaque in the tavern
Herald's Rest is a tavern located in Skyhold. It becomes available once the Inquisition assumes control of the fortress.
Involvement
Edit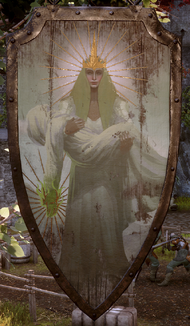 The Herald's Rest tavern is a place for soldiers and other members of the Inquisition to gather for relaxation. It is also the location of certain
companions
, offering a place in which the Inquisitor can engage with them in private. There are three levels to the tavern, with a companion found on each one.
The tavern employs a bard, Maryden Halewell, and through the course of the Inquisition's journey, her songs change in accordance with various events and decisions made by the Inquisitor.
Characters
Edit
Codex entries
Edit

Codex entry: Take Back the Sky: A Tavern Cheer

Other texts
Edit

The Herald's Rest (Plaque)


Sera's Cabinet of Wonder Whose It Was


Tavern Notice (Skyhold)

Ad blocker interference detected!
Wikia is a free-to-use site that makes money from advertising. We have a modified experience for viewers using ad blockers

Wikia is not accessible if you've made further modifications. Remove the custom ad blocker rule(s) and the page will load as expected.