Halla Treasure Hunt is an unmarked side quest in the Trespasser DLC for Dragon Age: Inquisition.
Acquisition
Edit
Find the first map on a skeleton in The Crossroads which is immediately to the left after passing through the first Eluvian.
Walkthrough
Edit
After the first map is found, Halla statuettes can be found around the Winter Palace.
The first halla statuette is beside the statue behind the bar
The second halla statuette is inside the central fountain
The third halla statuette is on the roof of the bath-house
The last halla statuette is at the top of balcony on the right set of stairs from the palace main gate
Afterwards return the Top Hat with the final statuette to the skeleton in the Crossroads.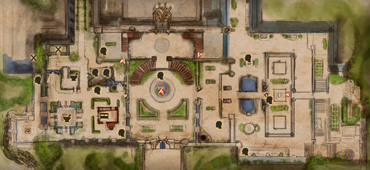 Each statue yields +1 Cunning
Obtaining four statues yields the Encore Schematic

Encore Schematic

---

Staff Schematic

Damage: 58-65-75-77
Cold/Fire/Electricity

Damage: 24 Metal
Offense: 8 Cloth
Offense: 6 Metal
Offense: 8 Cloth
Masterwork: 1 Masterwork
On Hit: chance to sing an offensive buff for allies within 8 meters
Returning the hat yields +6 Cunning
Ad blocker interference detected!
Wikia is a free-to-use site that makes money from advertising. We have a modified experience for viewers using ad blockers

Wikia is not accessible if you've made further modifications. Remove the custom ad blocker rule(s) and the page will load as expected.