The Great Hall is the third floor of the Circle Tower. It acts primarily as a meeting and assembly area for members of the Circle of Magi.

Broken Circle

Five Pages, Four Mages

The Scrolls of Banastor

Watchguard of the Reaching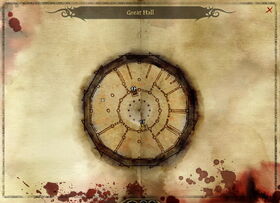 Special objects
Edit
Containers
Edit
Ad blocker interference detected!
Wikia is a free-to-use site that makes money from advertising. We have a modified experience for viewers using ad blockers

Wikia is not accessible if you've made further modifications. Remove the custom ad blocker rule(s) and the page will load as expected.