Ad blocker interference detected!
Wikia is a free-to-use site that makes money from advertising. We have a modified experience for viewers using ad blockers

Wikia is not accessible if you've made further modifications. Remove the custom ad blocker rule(s) and the page will load as expected.
"It allowed me to forge a man of steel or stone, as flexible and clever as any soldier. As an army, they were invincible. But I told no one the cost..." ―Caridin

Golems are creatures of hewn stone or sheets of metal animated with a spark of lyrium. A magical, not mechanical, process animates the golem, making it more of a living "iron/stone creature".[1] Most commonly made of rock, they rarely speak.[2] A magical control rod can be used to gain complete command of a golem. A golem which lacks a control rod retains free will.
Golems were invented by the Paragon Caridin in -225 Ancient (940 TE),[3] when the First Blight was threatening both the surface and the dwarven empire. Paragon Hirol later improved the golem design.
Background
Edit
Caridin built the magical Anvil of the Void specifically for the process of building golems. Because he could not create new life, he had to use dwarven volunteers and turn them into golems. The process involves dressing the volunteer in armor the size of the golem, then pouring molten lyrium through the eye holes, mouth hole, and joints of the armor. Before it cools, the armor is hammered and shaped to perfection. Enchanted control rods were used to turn the golems into perfectly obedient soldiers, at the cost of their free will.
Because the golems led to incredible victories against the darkspawn, who were steadily destroying the dwarven civilization, many dwarves gladly volunteered.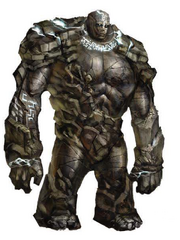 When King Valtor began forcing criminals, casteless, and political dissidents into golems, Caridin refused to create any more golems after six years of continuous production. By order of the King he was turned into a golem himself, but Caridin's apprentices could not create a control rod, so Caridin kept his own mind.[4] Soon afterwards he disappeared as well as the Anvil.
The dwarves mounted many expeditions to find the Anvil but all of them failed. The last rescue operation was mounted by Queen Getha. She sent the entire Legion of Steel, an all-golem battalion. With great fanfare, the Legion left Orzammar but they were never heard from again. The Shaperate declared Caridin dead, extinguishing the last kindle of hope. Due to the incalculable loss of the Legion of Steel, Queen Getha was deposed.[4] Since then, Caridin is the protector of the Anvil of the Void, wishing he never invented it.
Later experiments to create golems using an alternate source, such as fade spirits, were successful in creating uncontrollable flesh golems.
Fortified Golem
Magic-Resistant Golem
Regenerator Golem
Beirus's golems
Notable golems
Edit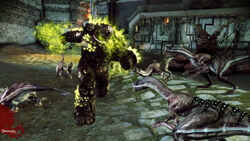 See also
Edit

Codex entry: Golem

Codex entry: Inferno Golem

Codex entry: Caridin's Journal

Codex entry: The Legion of Steel

Codex entry: The Gate Guardians
References
Edit