Gnawed Noble Tavern
Talk

0
6,749pages on
this wiki
Location
Gnawed Noble Tavern

Type:

Location:

Inhabitants:

Exits:

Appearances:
The Gnawed Noble Tavern is one of the taverns in Denerim. It is a favoured destination for the nobility and is the location of a number of quests. The tavern's Bartender offers the Favors for Certain Interested Parties job board, and the Blackstone Irregulars liaison can be found within.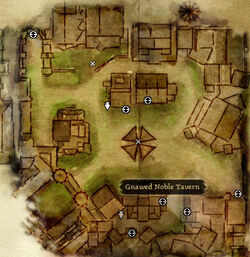 Background
Edit
The Gnawed Noble is located to the south of the Denerim Market District, opposite Brother Genitivi's house. This tavern serves a number of nobles when they arrive in Denerim for the Landsmeet. The interior consists of two main rooms and two bedrooms. The inhabitants of the tavern will vary depending on the currently active quests and progress through the main plot.
The Crimson Oars
Favors for Certain Interested Parties
The Landsmeet
The Trial of Crows
Characters
Edit
Edwina - proprietor
Sophie's Guard
Waitresses
The following appear after the Landsmeet starts: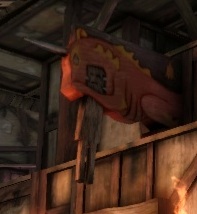 Containers
Edit
Notable items
Edit
Silk Carpet
Silk Carpet
---
Generic


A carpet woven from fine silk thread.



, source: Chest in locked room
Diamond
Diamond
---
Gem


A brilliant cut, colorless stone.



, source: Chest in locked room
Notable gifts for companions:
Ale
Ale
---
Gift


A mug of watered-down ale.



, source: Sold by
Bartender
.
Codex entries
Edit
Codex entry: Politics of Ferelden
Codex entry: The Noble Families of Ferelden
Codex entry: The Legend of Calenhad: Chapter 3
Codex entry: Nevarra
Codex entry: Rivain
The tavern's proprietor Edwina is described in the toolset as "extremely bitter". This may be a reference to Edwin's epilogue in Baldur's Gate 2: Throne of Bhaal. He battled Elminster of Shadowdale, "a short affair that saw the end of Edwin's existence in the Realms. Edwina, however, tends bar in a Waterdeep tavern. She is a bitter, bitter woman."
References
Edit
↑ 1.0 1.1 1.2 During the quest The Landsmeet - Part "Prepare for the Landsmeet"