Frostback Mountains
Talk

3
6,967pages on
this wiki
For the location in Dragon Age: Origins, see Frostback Mountain Pass.
Location
Frostback Mountains

Terrain:

Mountains

Location:

Inhabitants:

Appearances:
The Frostback Mountains (also known as the Frostbacks and called the Frozen Teeth by the dwarves) are a towering range of mountains that run from the banks of the Waking Sea to uncharted territories in the south, forming Ferelden's natural western border with Orlais. Gherlen's Pass leading to Orlais is the only Frostback passage safe for year-round travel.
The mountains are considered highly inhospitable, and yet they house the native Avvar tribes, and, beneath the northern foothills, most of the continent dwarves. The entrance to the dwarven city of Orzammar lies in Gherlen's Pass, with its permanent shanty-town filled with traders and petitioners, making it of strategic importance.[1][2]
Involvement
Edit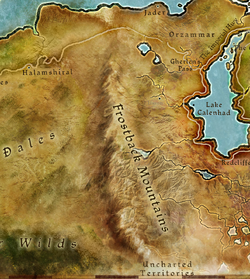 In Dragon Age: The Stolen Throne, right before the Battle of River Dane, a dragon ravaged the Orlesian side of the Frostback Mountains.
In Dragon Age: Origins, the Frostback Mountains location on the world map leads to a short pass to the gates of Orzammar. The village of Haven in the Frostbacks is involved in the quest The Urn of Sacred Ashes.
One of the three rare bulbs found in the Frostback Mountains, when dried and powdered becomes a Distillation Agent.
Beneath the Frostback Mountains, there are rich deposits of Lyrium veins which are mined by the dwarves of Orzammar for millennia of years.
See also
Edit
Codex entry: The Frostback Mountains
References
Edit
↑ Dragon Age: The World of Thedas, vol. 1, p. 19
↑ "Frostback Mountains". Official BioWare wiki. Retrieved August 17, 2013.