Fort Drakon
Talk

5
6,996pages on
this wiki
Location:

Inhabitants:

Appearances:
Fort Drakon is an ancient fortress that pre-dates the city of Denerim and is both the oldest and the tallest structure in the city.
Background
Edit
The location of Fort Drakon was originally an outpost of the Tevinter Imperium. The Imperium's mages built a tower rising out of a mountain to symbolize its power. The city of Denerim was built around the tower, and after the Imperium lost control of the region, it passed through the control of different teyrns who ruled the area. The city's population could retreat into the fort if it was threatened. Eventually Fort Drakon settled under the command of the Arl of Denerim. It is now used as a garrison for Denerim's city guard as well as a prison. Its current name comes from Emperor Drakon.[1]
Involvement
Edit
Dragon Age: Origins Edit
In 9:31 Dragon during the Fifth Blight, Fort Drakon plays a significant part in the Warden's journey.
If the Warden is captured during the Landsmeet; the Warden must break out of prison or allow the assembled allies to perform a daring rescue mission.
During the Battle of Denerim, following
Riordan
's unsuccessful attempt to kill the
Archdemon
, the dragon crashes onto the top of the fort. The final portion of the battle occurs when the Warden climbs to the top of the tower, facing off against the Archdemon in a dramatic final battle. This battle leaves the Archdemon dead and ends the Fifth Blight.
The Darkspawn Chronicles Edit
Dragon Age: Origins Edit
Captured!
The Battle of Denerim
The Darkspawn Chronicles Edit
The Battle at Fort Drakon
Characters
Edit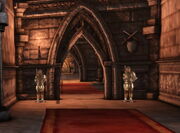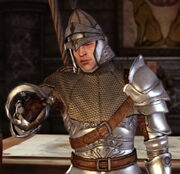 When deciding to attack the guards:
Always:
Containers
Edit
Chest containing random leveled loot. Some locked for 30 and 40XP
Wooden Crates containing random leveled loot.
Weapon Stand containing a random leveled weapon.
Special objects
Edit
Area maps
Edit
References
Edit
↑ Mike Searly. "Traveler's Guide: Fereldan Geography". Dragon Age: Origins: Collector's Edition: Prima Official Game Guide.